Tana Mongeau Moving Out of David Dobrik's House Made Him Devalue the Place
David Dobrik decreased the price of his old house by $500k.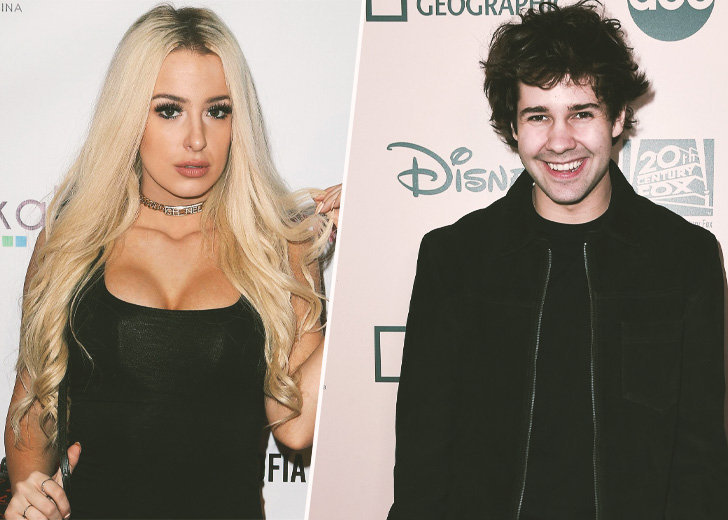 If you are updated with YouTube drama, then you have probably heard of Tana Mongeau. She is a controversial influencer who began her YouTube career in 2015 with storytime videos. 
She slowly gained recognition by collaborating with YouTubers like Shane Dawson, Trisha Paytas, Jake Paul, and The Vlog Squad. She gradually became mainstream after MTV did a show called MTV No Filter: Tana Turns 21. 
However, there are a lot of controversies and scandals surrounding her. From hosting the infamous Tanacon to not following COVID-19 protocols set by the government, Mongeau has been criticized and canceled by the public many times. 
As a result, she launched her podcast called Cancelled, where she talks about her life and brings controversial guests to talk about them. On the first episode of the podcast, she updated about her life and moving into David Dobrik's old house. 
She has currently moved out of there, and Dobrik's old house is back in the market. But this time, it is approximately $500k less than it was initially listed. 
David Dobrik Devalued His Old House
Dobrik purchased his Studio City house in 2017, which he shared with his manager Natalie Noel and a few of his pals. In addition, the home was heavily featured in his vlogs. He reportedly bought the house for less than $2.6 million. Dobrik later moved to his $9.5 million contemporary mansion in Sherman Oaks and listed his Studio City house for sale for close to $3.5 million. Dobrik and his team had fully intended to sell his old house, but the plan changed after Mongeau approached them. 
During that time, Mongeau was feuding with her landlord. She is currently being sued by them as well for violating her contract and throwing a party. 
Mongeau went into details about the lawsuit on Zane and Heath: UNFILTERED on October 6, 2021. She said she was being sued for $700k since she threw a party where more than 25 people were present. 
According to the lease contract, if there were video evidence of more than 25 people present, she would have to pay the landlord money according to the number of extra people present. 

Mongeau assumed that the landlord was joking since Faze Clan and Clout House had also leased before her. The members of those groups had parties before, but there was no news about any lawsuit.

As a result, Mongeau signed the lease without hesitation. But, unfortunately, the landlord was not kidding, and now, she is being sued for it. 

It was a surprise to many Mongeau and Dobrik fans when she moved into Dobrik's old house. Many believed that they were on bad terms with each other due to past scandals. 

However, when Mongeau approached Dobrik, he leased the house to her. He initially charged her $30k for the rent, which raised to almost $40k a month because of taxes. 
Mongeau had nothing but bad to say about the house when she first moved in. She said the house came with rodents, bugs, and other infestations. Similarly, she complained the house was too small. 

Mongeau, apparently, had to fix several damages to the house, including sinks and locks. Moreover, the house had foundational issues that required almost $500k to solve, which Mongeau could not afford. 

Therefore, after living there for almost three months, she moved out. After that, Dobrik placed his house on the market, but this time, he decreased the house's value by $500k. 

Dobrik has not clarified the reason behind devaluation, but Mongeau joked it was because she was a bad omen for future buyers.