Tana Mongeau Goes off on James Charles over Grooming Scandal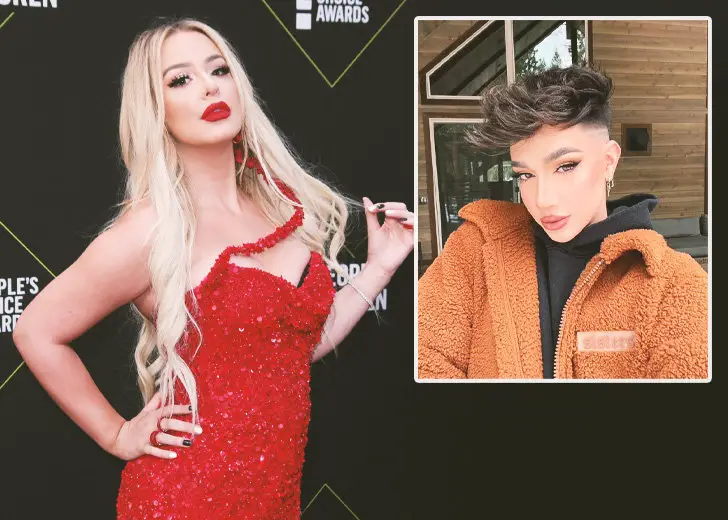 TW: The content includes references to topics such as sexual assault and grooming. Reach out to the National Sexual Assault Hotline at 1-800-656-4673. 
Tana Mongeau, a prominent YouTuber, was good friends with makeup mogul James Charles. But, unfortunately, she is no longer friends with him and has released several statements about being manipulated by him. 
Charles was once at the top of the YouTube hierarchy and one of the most famous creators. But now, he is being dethroned and canceled as there have been serious allegations of sexual assault and grooming levied on him. 
Recently, Mongeau even shaded Charles during her appearance on Outta Pocket Podcast. 
Tana Mongeau on James Charles' Scandal
During her conversation with hosts Jack Gilinsky, Jack Johnson, Sammy Wilk, and Bruce Carter, she shared her recent encounter with her former friend. 
She noted that she was at a party with Bryce Hall, and Charles had been there just before her. However, the two had missed each other at the party because, according to Mongeau, Charles left the party early when he heard she was on the way. 
She also talked about a video that surfaced on the internet where she called Charles two-faced and when asked why, she said, "well, he likes kids." While some hosts were aware of Charles' scandal, Gilinsky wasn't. 
He asked Mongeau to fill him in on the controversy, which prompted Mongeau to reply with, "fill you in on why he should be in jail?" Charles has been called out many times for underage grooming, which resulted in the demonization of his YouTube channel.
His makeup line was also pulled by Morphe, among many other incidents. 
The hosts and Mongeau discussed how Charles continued to do it despite being called out a million times, which Mongeau referred to as an abuse of power. 
It's like such an abuse of power which I think is such a thing. If you are using your power to [expletive] your young fans and manipulate people. We were friends for so long, and he would hide so [expletive]. 
She added that people would criticize her for being friends with the beauty guru, but their friendship ended way before he was embroiled in the scandals. 
James Charles' Scandal
In April, Charles released a 15-minute video titled "Holding Myself Accountable," which has since been deleted. 
In the video, he addressed the allegations from minors who claimed that he sent them inappropriate photos and messages on Snapchat. The beauty guru acknowledged his actions, apologized for them and stated that he had been lied to about their ages. 
He claimed that he did not know they were minors and explained that he resorted to such behavior out of desperation for wanting to be in a relationship. "There is no excuse for it, there are no ifs, and or buts and I take full responsibility for that," said Charles.
This wasn't the first time Charles was hit with allegations of inappropriate messaging. In February, a teenage boy accused the YouTuber of grooming him and forcing him to exchange photos on Snapchat.
At the time, Charles denied the allegations and called them "completely false." 
So far, there has been no confirmation on an investigation by law enforcement into Charles' situation.