Tana Mongeau Reunites with Ex Boyfriends Lil Xan and Chris Miles for Friendsgiving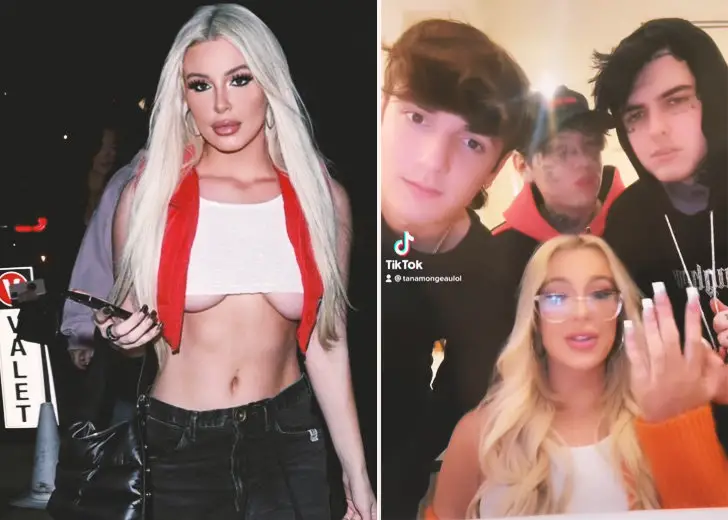 Tana Mongeau celebrated Friendsgiving together with Chris Miles, Lil Xan, and Bryce Hall. 
Among the three, Lil Xan had been one of Mongeau's boyfriends in the past. She has also sparked dating rumors with Hall but has said it's only for the internet and that they are just really close friends.
In posts she has made on Instagram and TikTok, she is surrounded by the three and refers to them as her best friends. 
She also put up Instagram stories where she shared several clips from her Friendsgiving celebration. In one clip, Lil Xan refers to the celebration as 'cloutsgiving.'
The comment section of the posts is filled with all sorts of comments, with many comparing her exes with Hall. People have also pointed out the unconventional nature of her relationship with her exes and Hall.
The sudden reunion of her exes for her Friendsgiving came as a shock to many. However, for people familiar with Mongeau, it doesn't come off as surprising.
Here's a look at Mongeau's relationship history with her exes and Hall.
Tana Mongeau And Lil Xan
Mongeau revealed in May 2019 that she had a fling with Lil Xan but that the rapper cheated on her and moved on with Noah Cyrus.
In an interview with Jake Paul at a later date, he was asked whether he had cheated on Mongeau. The rapper answered the question, saying: "We were just young. That's all we were doing, Tana. Come on." 
Chris Miles And Tana Mongeau's Break Up
Mongeau announced she was in a relationship with Miles on July 8, 2021. However, in the following months, they broke up and got back together multiple times.
On October 17, 2021, Mongeau accused Miles of cheating on her on social media. The same night, she went out with her cousins and ended up getting drunk.
More drama followed later in the night after Miles uploaded a picture of him beside a sleeping Mongeau and wrote, "someone gotta take her phone away when shes drunk @tanamongeau"
Because the two had been dating on and off for months now, Miles' post led many to believe that the two had gotten back together. However, the next day, Miles announced he was single via Instagram Stories.
Mongeau reposted the story and accused him of never loving her. "The definition of cruelty. U never loved me. No more toxic public [expletive] for me ever again."
Mongeau And Bryce Hall
People speculated Mongeau and Bryce Hall were dating because of their close friendship and their flirty behavior towards each other in their videos. 
She had also confessed she was attracted to him in an episode of her Cancelled podcast.
However, Mongeau and Hall have since confirmed they are just close friends and are not dating. 
In a video titled 'WE HAVE SOMETHING TO TELL YOU…" which was uploaded to Hall's YouTube channel on November 11, 2011, the duo answered questions from fans where they revealed there was nothing more to their friendship.