Tana Mongeau and Chris Miles Share Bed after Cheating Accusations
Nobody knows what is going on!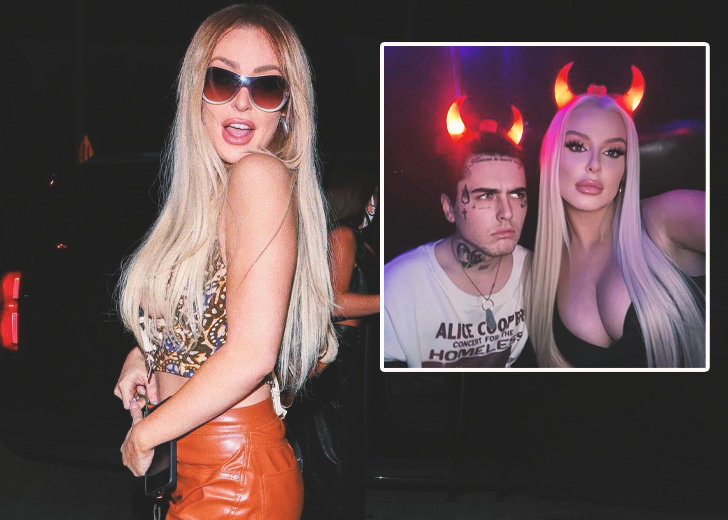 Tana Mongeau is confusing everybody about her relationship. Everyone is wondering what is going on with her and her boyfriend, the American rapper Chris Miles. 
On July 8, 2021, Mongeau revealed she was dating Miles and shared her excitement through Twitter. Naturally, her fans and followers were happy for her. However, the couple went through several breakups for the past three months. 
Therefore, it's no surprise that the duo parted ways once again as Mongeau announced Miles dumped her after cheating on her. 
Mongeau Spammed about Getting Cheated 
On October 17, 2021, the YouTuber spread the news about Miles cheating on her on every social media possible. From TikTok to Instagram to Twitter, she uploaded a series of posts, crying and asking Miles why he did so. 
She also leaked a screenshot of a text message sent by the rapper, which said, "ok bet imma act single" and "stay safe."
She uploaded the screenshot on her Instagram Stories and tagged Miles with the caption, "why're you treating me like me like this." Mongeau further tagged the rapper on a picture of a car's headlights. 
She accused him of cheating on her and asked why he was doing this to her. The MTV star clarified that her heart was broken because of Miles and cried on TikTok, reflecting on her series of toxic relationships. 
Tana Mongeau's romantic life has taken several turns throughout the years. Previously, she was linked with Bella Thorne, Hunter Monero, and Lil Xan. She also got married to Jake Paul, which was deemed fake by many people.
After her rants, Mongeau got together with her cousins and enjoyed their "cousin heartbreak night." However, by the end of the night, a surprise guest appeared, and it was no other than Miles. 
The Pair Seem to Be Back Together
As usual, Mongeau and Miles seem to be back together. A few hours after Mongeau's rants, the rapper uploaded a story showing he was with Mongeau. 
The MTV star was sleeping with her back turned to the camera, whereas Miles was lying beside her. He uploaded a boomerang selfie with the caption "someone gotta take her phone away when she's drunk" and tagged Mongeau. 
This is not the first time the couple got back together after a fallout. They had their first break up 72 hours after Mongeau announced their relationship on July 8, 2021. 
Similarly, in September 2021, she broke up with the rapper and was back on the dating scene, only to patch up a couple of hours later. But this time, neither of them has explicitly revealed it they are dating again or not.
However, both of them have shared cryptic messages on their social media. 
Miles took to Instagram stories to post a picture of a teddy with the caption "we all just humans. trying out [our] hardest," whereas Mongeau tweeted "truth always prevails" and "wanna b healthy i'm done :)."
After spending her night crying about her relationship and dating history, on October 18, 2021, Mongeau partied with Mike Majlak and Faze Banks, celebrating the latter's birthday.