Sommer Ray Reveals She Accepts Machine Gun Kelly's Apology for Cheating on BFFs Podcast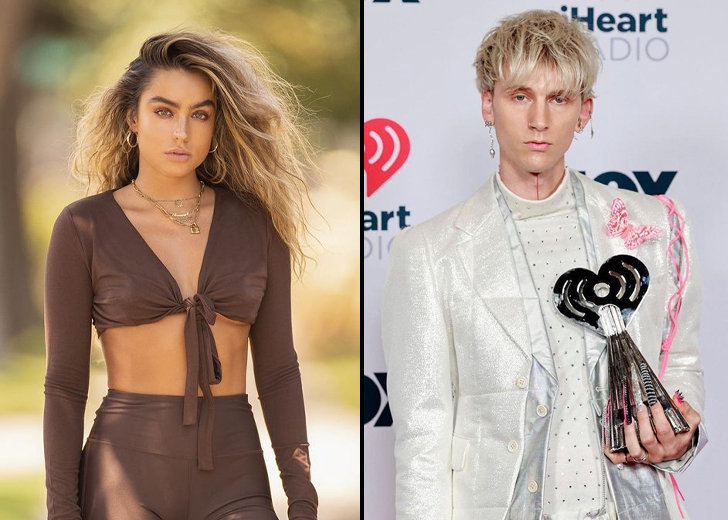 Sommer Ray and Machine Gun Kelly's relationship created a lot of drama in the past. The former couple went out for a while before Megan Fox, his now fiancee, entered the scene.
They had just been going out for three months when Fox entered their lives. After this, MGK swiftly broke up with Ray.
Ray later revealed that MGK had been cheating on her with Fox. The model has since received an apology from the couple.
Sommer Ray Accepted Machine Gun Kelly's apology
Ray appeared on Dave Portnoy's BFFs podcast on February 16, 2022, where she talked about any things, one of them being her relationship with MGK, whose real name is Colson Baker.
The conversation began with them discussing if Ray had gotten into the LA scene. This swiftly became about her time with MGK.

Sommer Ray has received apology from Machine Gun Kelly for cheating on her with Megan Fox. (Photo: Twitter)
She first explained how she met and got together with him. Then, she asked if Portnoy and friends knew she and MGK never had sex, a big detail in their relationship.
"It doesn't really count," Ray joked about the relationship. She had also upset her father when they first started dating. He didn't talk to her for about a year, but she never understood his reasoning.
Going into the big detail mentioned above, she revealed her three-month rule about sex, and said she liked to "feel [the relationship] out."
"I wanna have, like, a connection. I want it to mean something," she continued.
Portnoy enquired if she hated him. To this, she said no, and said, "they're fine," talking about MGK and Fox's relationship.
The host further pressed Ray on the issue, raising the subject of him cheating on her. 
"I mean, yeah, but they've also apologized and it's fine. We're all great," Ray revealed, admitting she had forgiven them and held no grudge.
Sommer Ray Called MGK A 'Sex Addict'
Right after this, Ray again brought up her no-sex thing, and made light of the whole ordeal.
"He's like a sex addict," the model said, raising eyebrows. "[he] needs sex, so I'm like, someone has to give it to him. I'm fine."
MGK was informed of her rule right from the get-go and she said he even got mad when he heard about it.
But she didn't let her rule go. Another thing that made Ray hesitate was MGK's history with a lot of women.
She didn't like his "energy." "I think that when you have sex with someone, like, you really exchange energy, and I didn't really want his," Ray confessed, apologizing right after.
Ray wanted everyone to know that she "got really f-ed over in that situation" because MGK had made it seem like she was the bad person.
Further, she claimed she got death threats from his fans over the breakup. However, things were fine at the time of this conversation.
They ended their relationship at the end of April 2020. Going by what she has said in the past, she never had any hate for MGK and Fox.
During an Impaulsive episode in March 2021, she said, "I don't hate him for it. I think that they're a cute couple."
She even joked saying she, too, would probably cheat on MGK if the other person was Fox.