Sofia Richie's Engagement Ring Is Like One Given to Her Mom by Dad Lionel Richie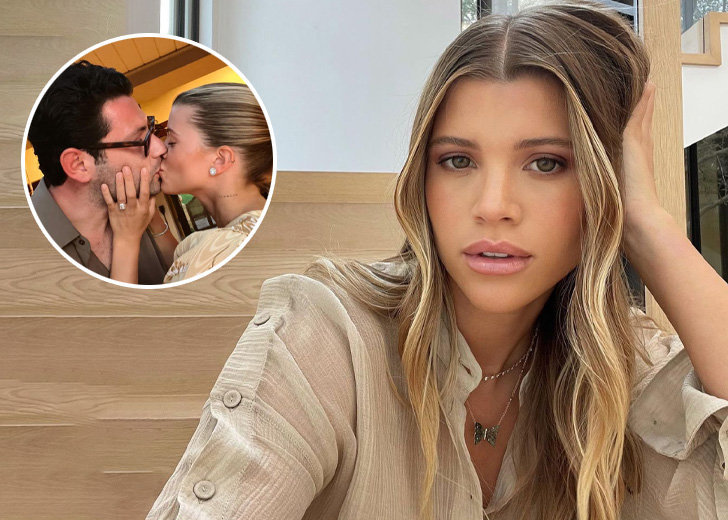 Sofia Richie announced she is engaged to boyfriend Elliot Grainge with an Instagram post on April 21, 2022. 
The model uploaded a picture of Grainge getting down on one knee to pop the question as the sunset in picturesque Hawaii. "Forever isn't long enough @elliot," she wrote in the captions.

Sofia Richie got engaged to Elliot Grainge in Hawaii. (Source: Instagram)
Grainge also shared the news with a picture of the two sharing a kiss. An engagement ring could be seen adoring Sofia's ring finger in the photograph.
"She said yes," he captioned the post, followed by a string of red heart emojis.
Sofia Richie's Engagement Ring is Similar to That of Her Mother
Sofia's engagement ring bears a lot of resemblance to the ring her father, Lionel Richie, had given to her mother, Diane Alexander.
Reportedly, the only difference between those two engagement rings is that Diane's sported a 10-carat diamond while Sofia's has a six-carat diamond.
Jenny Luker, the president of Platinum Guild International USA, who was not responsible for the ring, estimated its price to be around $300,000. The ring features an emerald-cut center diamond on a thin platinum band.
Sofia Richie & Elliot Grainge
Sofia and Grainge have known each other for many years, but they went Instagram official in April 2021. She shared a picture of herself and her boyfriend looking lovingly at each other in her Instagram stories.
When news of the two being in a relationship got out, ET reported Sofia's family approved of the two dating.

Sofia Richie's engagement ring has a lot of similarities to the one gifted to her mother by her father. (Source: Instagram)
"They have been friends for years and Elliot is also close with Sofia's brother, Miles," a source said. "It's very nice for Sofia to date someone who her family approves of and likes."
Who Is Elliot Grainge?
Grainge is a music executive, who is also the founder of 10K Projects, the music label behind 6ix9ine and Triple Redd's launch. The label has since signed over a dozen gold and platinum/multi-platinum singles, all of which have accumulated over 22 billion streams.
Through his 10K Projects, Grainge has also made efforts to help Gen Z rappers take off and made a name for himself in the industry.
However, he isn't the only one from his family to be in this line of work. In fact, his father is Sir Lucian Grainge, the chairman and chief executive officer of Universal Music Group.
In his multi-decade spanning career, Lucian has signed and worked with big artists such as Jay Z, Elton John, Katy Perry, Rihanna, The Rolling Stones, and more.
Sofia Richie's Past Relationship
Prior to getting together with Grainge, Sofia was in a relationship with Scott Disick, whom she dated from September 2017 to 2020.
Reportedly, the two split because Sofia wasn't ready to be a stepmom to his three kids — Mason, Penelope, and Reign — whom he shares with Kourtney Kardashian.
Disick later claimed his relationship with Sofia ended when she made him choose between her and his family. "She literally said, with an ultimatum: 'You have to choose, me or Kourtney.'"
He further added that it became impossible to continue the relationship because he couldn't choose Sofia over Kourtney, as Kourtney signified not just herself but also their three kids.