Prince Jackson Pens Sweet 5th Anniversary Tribute to Girlfriend Molly Schirmang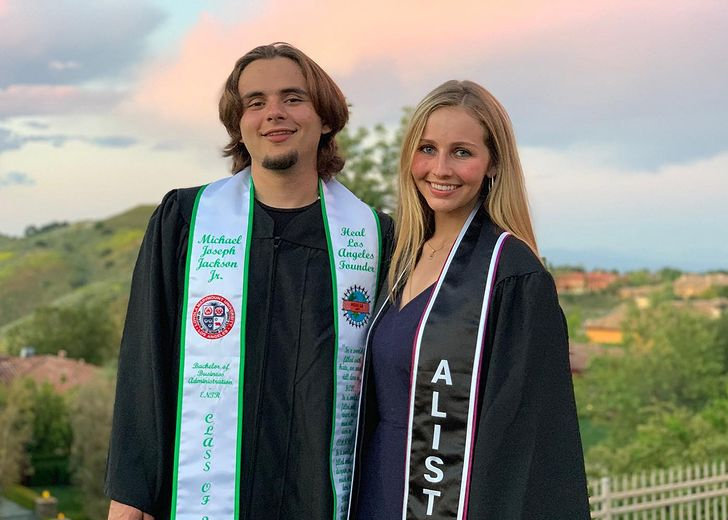 Prince Jackson is celebrating five years of togetherness with his girlfriend, Molly Schirmang.
On March 23, 2022, the son of the late Michael Jackson took to Instagram to mark his fifth anniversary with his girlfriend, sharing a series of pictures of the couple together from over the years.
"5 years together," he wrote in the caption. "Lots of trips, miles, smiles, meals, desserts, and all kinds of adventures in between. Love you babs."

Prince Jackson and his girlfriend Molly Schirmang posing with radiant smiles. (Photo: Instagram)
In the pictures, the lovebirds are seen traveling together, riding around on a red Vespa, and graduating college side by side. One of the pictures also saw him kissing Schirmang on the cheek with mist-covered mountains in the backdrop.
Family and Friends Congratulated the Couple, Too!
The anniversary post also filled the friends and family members of the couple with excitement. Because of that, they were quick to write down some sweet messages in the comment section.
"Congrats on 5," Jackson's aunt La Toya Jackson wrote. "Sending you guys much love!!!"
His cousins TJ Jackson and Taryll Jackson, sons of Tito Jackson, posted heart emojis, too.
TV personality Asa Soltan Rahmati similarly gushed about the couple, saying, "Love you both!! How wonderful! Happy 5 year anniversary."
One fan even asked Jackson to marry his girlfriend. They wrote, "OK marry this girl already geesh. so cute together."
"it's so amazing being able to watch you grow Prince. I was a kid when you were a kid lol so happy for you," another fan noted.
Prince Jackson's Relationship with Girlfriend Molly Schirmang
Jackson and his girlfriend, Schirmang, reportedly met for the first time when they were studying at Loyola Marymount University.
After getting to know each other there, they later began dating and have been inseparable ever since.
Over the years, the couple has managed to keep their romance very private. But that being said, on occasions like the one previously mentioned, the aspiring singer takes to his social media to express his love for his sweetheart.
For instance, he once posted photos of them dressed up as Dwayne Johnson and Emily Blunt's characters from Jungle Cruise for his Thriller Nights Halloween costume party, which helped the Heal Los Angeles Foundation.
Over the years, Jackson has also clicked them celebrating major moments, including college graduation, birthdays, trips, and more.
"I've grown and learned so much with you and so lucky to be able to go on all our adventures together," he also wrote on Instagram for their fourth anniversary last year.
"It's so cool to see all the places we've been together and all the crazy stuff we do usually revolving around food. I love you baby happy 4 years."
In addition, the two have walked carpets together, including one for the Los Angeles Dodgers Foundation's Blue Diamond Gala in 2019.
Speaking with People in 2018, the son of the legendary dancer revealed that he and his girlfriend, however, loved to have low-key dates.
He said he loved to watch movies, while she preferred to enjoy time around the beach. 
The two are reportedly complementary in a way that they balance each other out, with Schirmang usually encouraging him to see things through a different light.