Cooper Noriega's Sister Parker Blaine Shades Josh Richards and 'BFFs'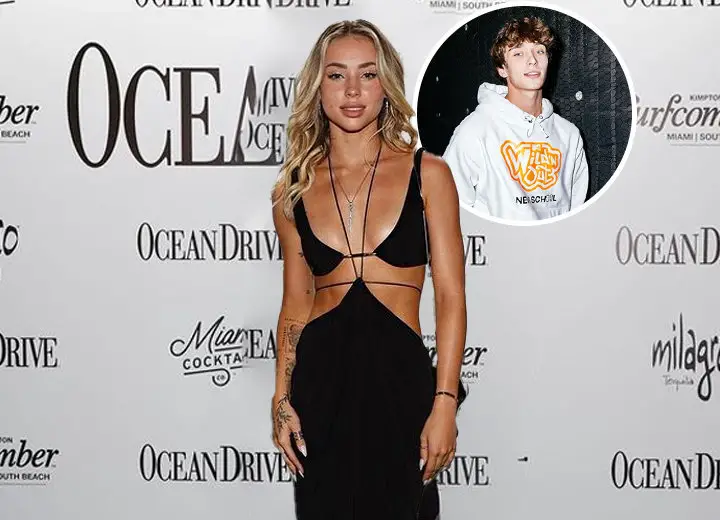 Cooper Noriega's untimely death in June 2022 has undoubtedly raised a lot of topics for discussion on the internet. 
At first, it was all about social media stars claiming to be close to the TikToker to gain sympathy points from netizens.
And now his sister, Parker Blaine Noriega, better known as Parker Blaine, has her agenda, seemingly against Josh Richards and the BFFs podcast. 
For the unversed, Noriega had appeared on the podcast once, and host Dave Portnoy commented that Noriega's outfit was "triggering." Obviously, the latter loved experimenting with fashion, and Portnoy's comment seemed to make him uncomfortable.
Now why the past is dredged up is because Blaine uploaded an Instagram story of Jaden Hossler wearing a red unbuttoned vest with his chest on full display on July 23, 2022. 
She then tagged Richards and BFFs and wrote, "is this crop top triggering for you" with a few middle finger emojis. Hossler also reposted the story on his Instagram story. 

Parker Blaine throwing shade at Josh Richards and the BFFs podcast. (Source: Instagram)
After the duo's stories went live, the BFFs podcast deleted their episode on Noriega. It appears Blaine's post was a direct sarcastic remark to Portnoy's comment.
Parker Blaine Receives Backlash
And that wasn't all that Blaine had to say in the entire drama. The original Tiktokroom uploaded a post that stated that the TikTok star's sister pinned a comment that read "how does Nessa [Nessa Barrett] and Mads [Mads Lewis] taste" and later unpinned it. 
Unfortunately, every single comment in the comments section criticized Blaine. They accused her of using her brother's death for clout. 
"It's crazy how strangers are more respectful about Cooper's passing, yet it's his own 'friends,' and 'blood-related sister' are entertaining disgusting drama online and for what?" wrote one user. 
"This girl needs serious help. Using coopers death to stir up drama and get in herself in the news is disgusting. No one knew her before lmao," another user wrote.
Many netizens in the comment section also mentioned that she and her brother were not on good terms.
Noriega had not followed her on Instagram, but Blaine went on his account and followed herself when he passed. But no one knows if this is true. 
Parker Blaine Says People Need to Stop Making Assumptions
On July 26, 2022, Blaine uploaded a TikTok with her friends and Hossler.
Netizens took to the comment section and criticized her for all her actions, but instead of staying silent, she replied to some of them. 
In one of the comments, a user wrote, "I like you until you came for Josh. You said you're doing everything for Cooper, but would he want this? I don't think so." Blaine replied, "you dont know ANYTHING."
In another comment, a person wrote, "excluding Nessa even though she was by your brother's side for his last days." She replied that she and Barrett were still close and asked the user to stop making assumptions and stay away from her social if they were so worried. 
In the video, Barrett's hairstylist, Lovette Candice, who goes by @lovettecandice, also commented no one knew anything and that they needed to wait for round two.