Noah Schnapp's Dating Rumors Addressed by Millie Bobby Brown
Not lovers, just besties.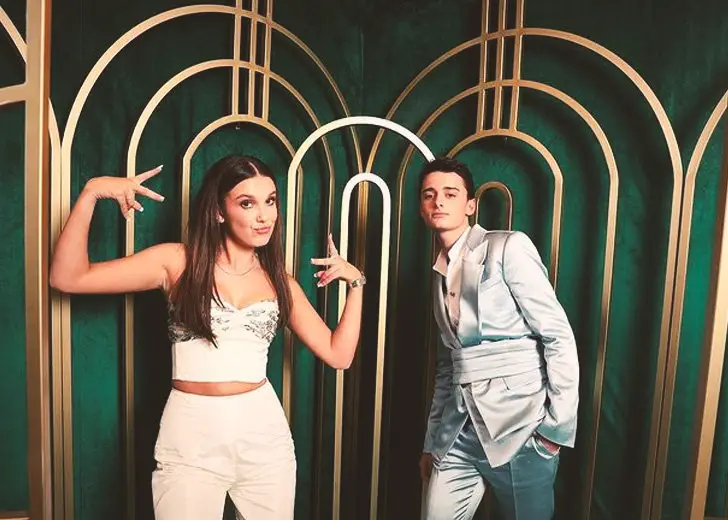 Co-star romance is quick-burning fodder to the massive media bonfire that is gossip. However, there is something endearing about it. Perhaps it is as simple as hoping the romance on screen spills over to real-life to make the article more immersive. 
That being said, Noah Schnapp and Millie Bobby Brown did not have an on-screen romance on Stranger Things. But, of course, that makes the question of their nature of intimacy even more enjoyable. 
So are they dating? Let's look into this a bit deeper. 
Is Noah Schnapp Dating Millie Bobby Brown?
Quick answer, no. Here are the receipts. Back in 2018, a snippet of Brown's Instagram live Q/A was uploaded to YouTube. The extract revolved around her being asked if she was in a relationship with Schnapp.
She was quick to reply that they were not dating. She also added that they had been friends for a long time. They have been best friends with each other, and that is how things will be for the foreseeable future. 
More recently, in 2020, Schnapp tagged Brown and their Stranger Things co-star, Finn Wolfhard, in a meme post that read, "Tag two people that want to hook up with each other to make things awkward." 
The internet did what it does best and blew this casual jab way out of proportion, giving way to numerous speculations about the co-stars. 
To spoil the fun for many, Brown had announced her relationship with Joseph Robinson a few months before this. Currently, other rumors are surrounding Brown's love life. She is supposedly dating the son of Jon Bon Jovi, Jake Bongiovi. 
Is Noah Schnapp Single?
As of today, Schnapp is single since he has not talked about his partner to date. However, he has addressed his relationship status a couple of times on his YouTube and Instagram.
On October 24, 2020, Schnapp uploaded a Q&A video to his YouTube, where he answered a few dating questions. Back then, there were a lot of rumors about him dating the TikTok star, Dixie D'Amelio. 
Schnapp clarified he was not involved with D'Amelio, and they were merely friends. However, soon after the actor clarified the rumors, D'Amelio started dating fellow TikTok sensation Noah Beck. They are together to date. 
Coming back to Schnapp, he made news in March 2021 for hitting on Caroline Gregory. She had posted a video dancing on the beach while lip-synching 'What The Hell' by Avril Lavigne. 
Schnapp commented "Uh hi" on the video, but soon, Asher Angel was there to save his girlfriend. Angel also commented on Gregory's video and shut down Schnapp's attempt immediately.
Is Noah Schnapp Gay?
Schnapp has never mentioned his gender orientation explicitly. He has flirted with a few girls online and on TikTok publicly, but no such information about him being involved with a guy is known. 
So, it can be assumed that Schnapp is a cisgender straight lad. On the other hand, his character on Stranger Things is not. The actor plays the role of Will Byers, the character on whom the first season revolved around. 
For the second and third seasons, he is a bit sidelined to move the story of Hawkins forward. Not only from the seasons but Byers is also left alone by his friends, since they are busy with their girlfriends. 
In episode three, titled 'The Case of the Missing Lifeguard' of Stranger Things 3, Byers wants to spend time with his friends playing Dungeons & Dragons (D&D). 
Unfortunately, all of them are busy gossiping about their romantic relationships. So finally, he gives up and rushes outside his house, away from his friends. 
His best friend Mike Wheeler follows him outside and shouts at Byers, "It's not my fault you don't like girls." Many fans questioned if this was a hint about Byers' gender orientation or if he was hurt that his pals have prioritized their love life before him.
Schnapp addressed this confusion in an interview with The Wrap. He said that everything is "up to interpretation."
Byers was confined in the Upside Down for a very long time. While he was there alone and stranded, his buddies had connected with many people and grew up. So Schnapp speculated that all his character wanted was to go back to how things were and play D&D with his friends.
Therefore, Wheeler's comment might not necessarily be about Byers being gay, but the latter's refusal to grow up.