Nessa Barrett Breaks Down Her EP: Does She Forgive Ex Boyfriend Josh Richards?
Nessa Barrett is definitely not forgiving anyone that crosses her.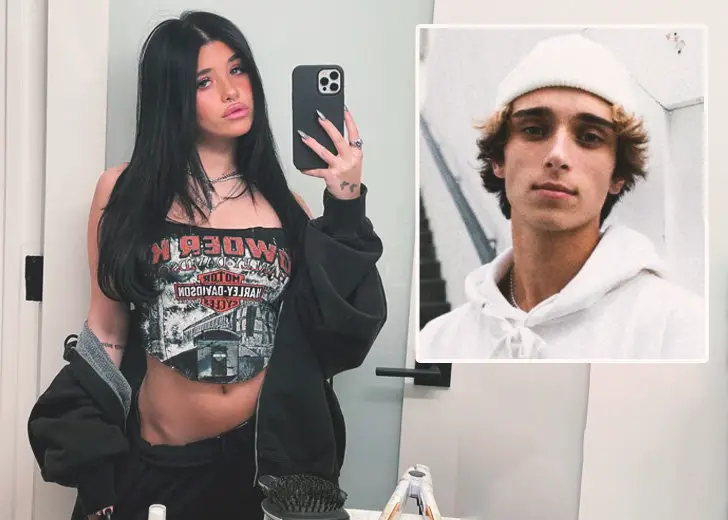 Nessa Barrett and Jaden Hossler made headlines as the hottest TikTok star couple, leaving their former partners, Josh Richards, and Mads Lewis, in melancholy.
It all started when Barrett and Hossler collaborated on their song 'la di die.'
Eventually, the duo confirmed they were dating, which was not well received by their exes or their loyal fans.
Barrett and Hossler were constantly ridiculed after Hossler's ex, Lewis, claimed that he had cheated on her during the entirety of their relationship. 
Through it all, Hossler and Barrett remained pretty quiet and refrained from lashing out or clapping back at the haters.
But all that changed when she hinted that she would reveal the truth about the situation in an upcoming song.
Before the release of her EP, Pretty Poison, the songstress shared that she would let everyone in on her journey through her music. 
Nessa Barrett Breaks Down Her Song
Barrett released her highly anticipated EP on September 10, and the lead single 'I hope ur miserable until ur dead' is her latest hit.
Barrett uses grungier soundscapes to move on from a toxic person and declare independence.  
The song has racked up over 20 million streams on Spotify to date and earned Barrett her first-ever entry into Billboard's Hot 100 chart at No. 88.
During her recent appearance on Genius, the songstress broke down the lyrics for the track. 
Although Barrett did not explicitly call out his name, many believe the lyrics tell the story of her problematic relationship with her ex boyfriend, Richards.
In her sit-down with Genius, she shared that she was writing about the experiences she had gone through. 
In the song's first verse, "I still hear your voice, tryna rip my world to pieces. But I'm not your toy, you can break and leave there bleeding," she explained that the words described a manipulative person and being in a toxic environment, but also being strong enough to move past it. 
With the chorus, Barrett displayed her petty side.
She explained that the lyrics "I hope you never fall in love again. I hope you be yourself and lose your friends" meant that she did not want to see the person who put her through hell succeed. 
The songstress added that she was also past calling people out and was happy with knowing the truth herself. 
She iterated that she believed that karma would bring them down someday, which is what her lyrics "I hopе you're miserable. I hopе you're miserable until you're dead" was about. 
Nessa Barrett's Is Less Forgiving
While Barrett loved her chorus, she shared that her favorite line of the song was "i hope you are haunted by your regrets."
She explained that she wanted to express the power she felt from knowing that karma would exact revenge for her with this added line.  
Towards the end of the video, Barrett shared a little more about her life. She iterated that she had let many people walk all over her for so long that she had reached her threshold. As a result, she was less forgiving these days.
You can watch the music video for 'I hopе you're miserable until you're dead' on YouTube.