Are Nessa Barrett and Jaden Hossler Engaged? Nessa Gives Hint
Nessa Barrett was caught with a flashy ring on her left hand ring finger.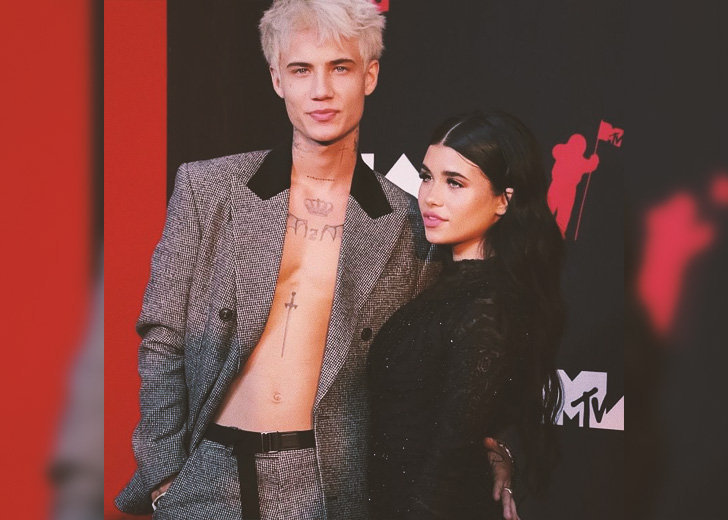 Is Nessa Barrett getting married soon? Barrett and her boyfriend, Jaden Hossler, have been the talk of the town ever since they got together. But now fans are convinced that the TikTok star is secretly engaged and trying to hide it. 
The speculation started from a now-deleted Instagram post. According to Hollywire, Barrett posted an Instagram mirror selfie that showed her riding piggyback on Hossler before quickly deleting and re-uploading it. The photo looked the same as before, but eagle-eyed fans noticed a significant difference. 
In the original photo, there was a flashy diamond ring on Barrett's left hand ring finger, but she clearly photoshopped out the ring on the reposted photo. Fans felt that the effort she went through to hide something like that meant there was something suspicious.
After Barrett re-uploaded the new post, Hossler posted a series of selfies on his Instagram, and this time her "engagement ring" was on her right hand. After fans saw this, some of them felt that the ring could have just been a promise ring as Hossler is gearing up to go on tour. 
No one knows why Nessa edited out the bling in the first post, but it definitely stirred a lot of fan theories.
Nessa Barrett and Jaden Hossler's Relationship
Barrett and Hossler first sparked romance rumors in February 2021 after releasing their song 'La Di Die,' and it looks like they have been cozying up ever since. A few months later, Hossler confirmed he was in a relationship with Barrett during a radio interview with Audacy's Kevan Kenney. 
Hossler gushed about Barrett before her single 'Counting Crimes' played on the radio.
As an artist, I'm very impressed and extremely excited to see Nessa shock the world. And then, as a boyfriend, I'm extremely proud and just grateful that I get to be her boyfriend.
The duo made headlines nearly a month after when Hossler's ex, Mads Lewis, uploaded a since-deleted TikTok video in March 2021, claiming that Barrett had stolen the 'Angels & Demons' singer from her. 
Barrett didn't explicitly acknowledge the situation, but shared a cryptic tweet after Lewis' TikTok went viral. She noted she had been through a lot and was not in the place to entertain lies and hate. 
Days later, Barrett and Hossler were spotted out at dinner in Los Angeles. When asked about their relationship status, the former Sway House member told Hollywood Fix that he knew nothing about that but that they were trying to be happy, and he was the happiest he had ever been. 
After going public with their relationship, the pair got matching ink to solidify their relationship. Artist Isaac Pelayo showed off the duo's matching tattoo on his Instagram story.
Both TikTok stars got the number "3" tattooed on them, Barrett on her left thumb and Hossler on the right side of his neck. Things definitely seem to be moving fast between these two.