Martin Kove and His Girlfriend Are Still Going Strong — Here Are the Details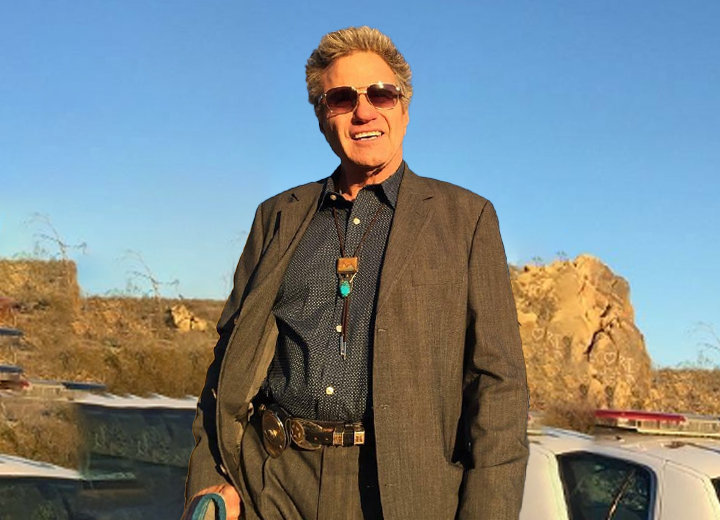 Karate Kid star Martin Kove's girlfriend, Mary Scavo Squire, was once a regular feature on his social media handles. He kept his fans in the loop regarding his personal life, posting pictures and mentioning his girlfriend on those uploads regularly.
They even frequented red carpet events and family functions as a couple. For instance, Kove took her to Hollywood's 2019 star-clad premiere of Once Upon a Time. She appeared beside him, adorned in a black party gown. 
But after the pandemic, he stopped tagging her on his posts, and their public appearances had lessened. The sudden absence made everyone believe that the two might have split. It turns out it is nothing like that — instead, they are still going strong. 
Martin Kove and Girlfriend Mary Are Still Together
Kove confirmed his relationship with Scavo when he took her to the premiere of his son Jessie Scavo's movie, The Fake, in 2017.
He shared pictures of the night on Twitter, mentioning he had a great time with his girlfriend and son. He wrote, "Great night celebrating my son @JesseKove and I's new movie #FakeNews with my lady Mary."
Then, in October 2017, he shared with the world that his partner had visited him in Washington while he was shooting for New York with Danny Trejo.
He shared pictures on Twitter of the trip and wrote it was fun to be with her. Such mentions and posts continued until 2019, then they were nowhere to be found in 2020 and 2021. Obviously, that didn't mean they had split.
On July 2, 2022, he finally posted pictures with his sons and Scavo. They were all holding the Stanley Cup and celebrating the moment. The couple looked happy together, spending quality time with his sons.
Kove's girlfriend is a businesswoman. A look at her Facebook bio shows she is the president of the luxury office rental, River Park Executive Suits, in Ventura country. She has two sons from her previous relationships. Her youngest son Jordan got married in June 2019.
Martin Kove's Previous Relationship
Kove was married to New Zealand actress Vivviene Kove from 1981 to 2005. He shared two children with his ex wife, twins Jesse Morgan and Rachel Olivia. 

Kove attended his son Jesse Kove's movie premiere with girlfriend Mary Scavo. (Photo: Martin Kove/ Twitter)
Jesse and Rachel followed in his path into Hollywood and built up their image as actors. Jesse portrayed the younger version of Kove's John Kresse in Cobra Kai. 
But only Jesse remained in acting. Rachel shifted her career and became a certified life coach and CEO of Transformational Solutions. And her father apparently had supported her career transition.
"He's taught me to never give up on my dreams," she told Cliche Mag, praising her father as one of the most "tenacious and persistent people" she had ever met. She even added she always looked up to her dad and his hard work.