Malu Trevejo And Travis Scott Drama - Did She Fake Her Record Label Deal with Travis?
Trevejo's new song will drop on October 22.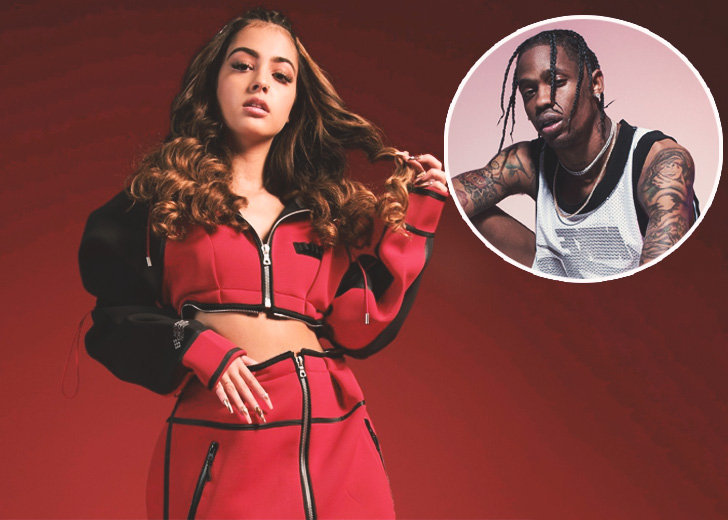 Malu Trevejo made a big announcement on her 19th birthday, as she stated in her since-deleted Instagram post that she signed a record label deal with Travis Scott's Cactus Jack Records and Atlantic Records.
"Birthday girl I'm so happy dreams come true got signed to @cactusjack and @atlanticrecords," the Cuban-born singer wrote. "I'm so happyyyyy Libra gang #myteamisthebest."
In the wake of the news, Scott's manager, David Stromberg, remarked on an article on the KTT2 website, where he implied that Trevejo and Scott's signing was a "fake" announcement.
Many Believe the Announcement Is Fake
Source of Tea, an internet celebrity gossip Instagram page, exposed a series of pictures and screenshots addressing the matter. The Instagram post shared on October 17 included a screenshot of her announcement, Stromberg's comment, and her reaction to the gossips through Instagram stories.
The post further revealed that Stromberg, the general manager at Cactus Jack LLC, stated all the news relating to Trevejo and Scott's signing was a lie, publicized by the young internet sensation herself.
The fourth slide featured a screen-recording video where netizens thanked the manager for clarifying the whole situation because there was so much going on since the announcement was made.
"Damn she really just got on there and lied," a user wrote on KTT2's comment section. Another chimed, "Appreciate the confirmation."
"She went through that long [expletive] story deleting everything she said and posted about being signed because she got caught lieing. wouldn't have to do all that, why lie," someone wrote on Source of Tea's post.
Another added, "she was following cactus jack last night and now she ain't."
Some Are Still Confused
While many netizens are convinced that Trevejo made a fake announcement, some are still confused and finding it hard to accept it was a lie. 
Doing that, someone on KTT2's comment section pointed out that the SVP of Atlantic Records, Orlando Whartonberg, had posted a snap of Trevejo, writing, "Up next." If the news was fake, the commenter asked why would Whartonberg share a post that hinted at a possible signing.
Many others showed their support for the comment, saying the fake announcement news might in itself be another fake news.
What Is the Truth? Did Malu Trevejo Really Lie?
The answer to that remains suspicious, as of this writing. That is because neither Trevejo nor Scott has made any official statement, saying the announcement was fake. That said, the announcement was only made from Trevejo's end, which again makes it hard to believe if it was true.
In addition, the social media personality, who has over 10.6 million followers on Instagram, deleted the announcement post. She subsequently removed "Cactus jack...Atlantic records" from her bio, which she had added after the announcement.
Amid the "fake announcement" controversy, Trevejo took to her Instagram stories to write that she didn't know "how to be be fake."
In another story, she stated that she was not lying about anything. She added, "but I know someone who does... I'm stay quiet tho knowing someone for 9 months showed a lot."
Meanwhile, Trevejo is excited to release her new song, which according to her social media bio, will drop on October 22.