Mads Lewis Views On Engagement - Blasts Jaden Hossler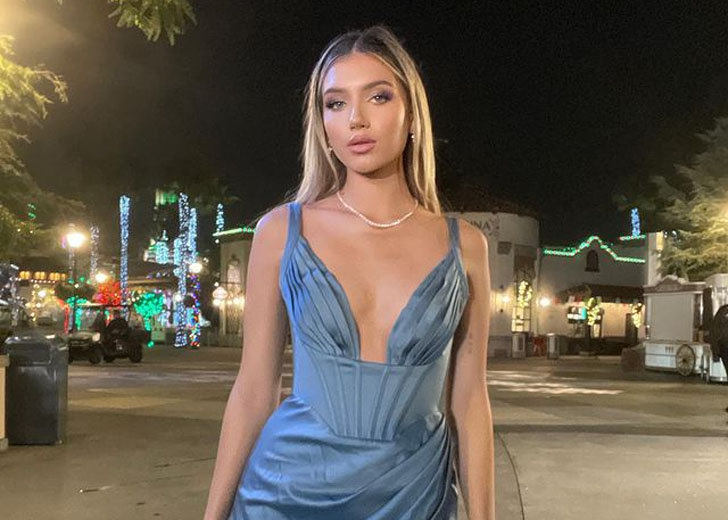 In season 17, episode 38 of The Rundown, E! News invited TikTok star Mads Lewis for the celebrity interview segment and talked about everything from her past relationship and her fellow TikToker friends to getting engaged to her boyfriend, Christian Plourde. 
For those unversed, E! News: The Rundown is a show on Snapchat that delivers relevant celebrity news to audiences in a snack-sized format.
At the start of the show, she explained that she would be taking over the show for the entire week. 
Before delving into details about her life, the host and Lewis had a little fun.
The host presented Lewis with the meaning of her name in the Urban dictionary. The result got most of the facts about her correct except for who she was dating. 
Lewis corrected that she was not dating Jaden Hossler but Plourde, who goes by Sevryn on Instagram. 
Mads Lewis on Getting Engaged
During the interview, she covered many topics, from being approached by a fan at an inappropriate time to playing Connect 4 with Kourtney Kardashian and Travis Barker.
The TikToker and the host then moved on to talk about her love life with Plourde. 
When the host asked her if her boyfriend kept her grounded and was supportive like Noah Beck was to D'Amelio, Lewis agreed.
She noted that Beck and Plourde were the sweetest men she had ever met in L.A,
Expanding on the reason, she explained that given that she and D'Amelio both came out of the "same toxic past with ex-boyfriends," Beck and Plourde taught them how "live life newly."
The host then asked her about her ring. 
Lewis clarified that it was her promise ring, not her engagement ring and that she was not engaged.
When asked if her promise ring was meant as "engaged/ to be engaged." She replied.
Umm, that's kinda how he said it, and we've been dating for six months. He gave this [promise ring] to me five months into our dating. And he was like, "this is a promise I'll get you a bigger one some day."
She subtly shaded Hossler and said it was nice when guys kept their promise after giving their girlfriends a promise ring. Then, she revealed that she had sold the ring that "her ex-boyfriend" gave her. 
Mads Lewis and Christian Plourde
Lewis's relationship with Plourde came about three months after confirming her split from Hossler. Hossler then began dating one of his collaborators, Nessa Barrett. 
The couple first met when Lewis was with Hossler, but they later reconnected when Lewis moved into an L.A.-based content house where Plourde lived.
They started flirting, and after hanging out together at the house, romance sparked. 
Plourde then asked Lewis out with matching eight ball rings as one of their early shared activities was playing pool together. 
Lewis then went Instagram official with her new beau in May.
The two have also previously expressed their interest in getting married in the future, during their appearance on Young Hollywood's video. 
The TikToker stated that she saw her and Plourde walking down the aisle someday.