Noah Beck Has the Sweetest Response to a Fan Asking Him to Marry Girlfriend Dixie D'Amelio
Noah Beck talks about marriage and kids during a Q&A session.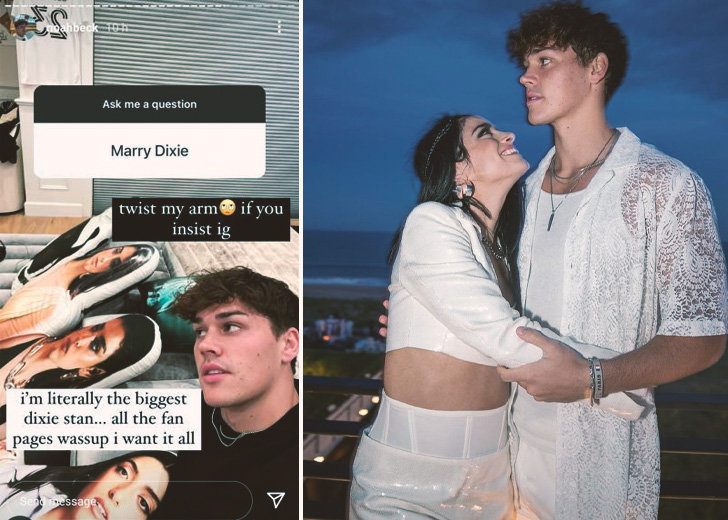 Noah Beck and Dixie D'Amelio are the biggest TikTok star couple. 
The duo who got together in September last year is the epitome of couple goals. Since deciding to go public with their relationship, both Beck and D'Amelio have shared tons of adorable snaps on Instagram and even attended red carpet events together. 
They also appeared on D'Amelio's music video 'Be Happy,' where they kissed one another, which started rumors of their relationship. A few months later, they confirmed they were dating and gushed about each other in public, winning the hearts of their fans who ship them hard. 
The couple appears to be in it for the long haul, as they have often spoken about marriage. 
Noah Beck Addresses Marriage in a Q&A Video

Noah Beck Answering Fan Question (Source: Noah Beck's Instagram)
On October 16, Beck held a Q&A session on his Instagram. 
He answered a few questions from his fans, which he uploaded as an Instagram story, and it seems they were mostly about his relationship with D'Amelio. One of the questions was regarding his marriage plans with the 'Psycho' songstress. 
The fan had asked him to marry her while he replied, "twist my arm if you insist IG." The internet heartthrob had also uploaded a photo of him with D'Amelio cushions and noted that he was the biggest "Dixie stan."
It seems like Beck has no plans to get married anytime soon. 
Another fan asked him if he liked his girlfriend a lot, to which he jokingly replied that he only liked her when she came to soccer games with a picture of him holding her chin. He also replied that D'Amelio was his best friend to a question asking who his best friend was. 
He then answered a fan question asking how many kids he wanted and shared that he wanted many with a picture of his selfie with a thumbs up. A fan also asked him when his Paris YouTube video was coming out, to which he replied that he was in the middle of editing it. 

Noah Beck Q&A Session On Instagram (Source: Noah Beck's Instagram)
The video in question has to do with Beck and D'Amelio living it up in Paris for their first anniversary. 
Noah Beck and Dixie D'Amelio Celebrate Their Anniversary in Paris
On September 26 this year, the couple reached a significant milestone in their relationship - their first anniversary. 
In a sweet Instagram post, D'Amelio wrote that she never thought she would Beck that much and thanked him for everything. Beck too shared a tribute in honor of the special occasion, noting that he was looking forward to many more years with her. 
A few days later, Beck shared a series of snaps with D'Amelio in front of the Eiffel Tower as they took a romantic stroll in front of famous sightseeing places. Similarly, D'Amelio also shared a carousel of her outfit of the night posing in a street of Paris.
It looks like everything is going great between these two lovebirds.