Is Mads Lewis Engaged? Fans Spot Suspicious Ring in Her Right Hand
Mads Lewis has been spotted with a ring on her finger,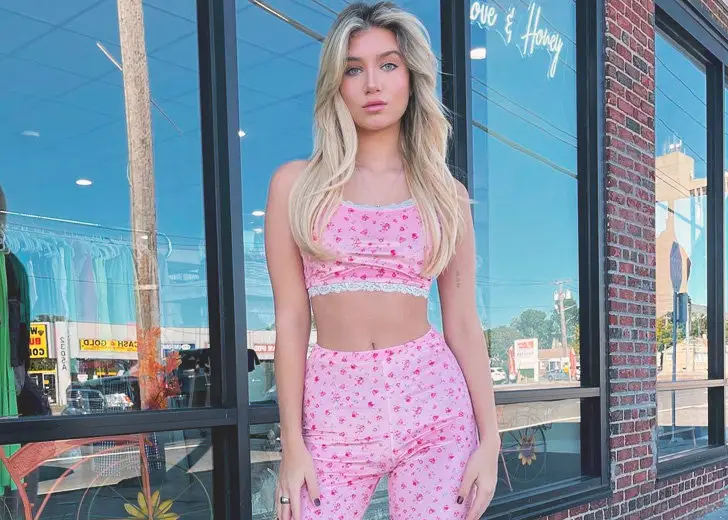 First, it was Jaden Hossler and Nessa Barrett, and now it's Hossler's ex, Mads Lewis, and her boyfriend, Christian Plourde, aka Sevryn.  
After Hossler and Lewis' messy breakup, Hossler went public with Barrett about their relationship, but a few months later, Barrett was spotted with a suspicious ring on her ring finger, which fans assumed was an engagement ring. 
And to make matters worse, Barrett photoshopped her ring, which further caused fans and the media to go into a frenzy. 

Mads Lewis TikTok And Engagement Comments (Source: Mads Lewis TikTok)
Similarly, Lewis has also been spotted with a ring on her finger which has fans speculating that she is secretly engaged to Plourde. 
Mads Lewis Flaunts Her Ring
On October 9, Lewis uploaded a TikTok trend. In the video, she covered her mouth with her hands and only displayed her eyes to show her viewers her different expressions with her eyes. 
But what caught most fans' attention was not her expressive eyes but a diamond ring on her fourth finger. Naturally, this sent fans into a frenzy, with many speculating that she was engaged. But they failed to notice that she was wearing it on her right hand, and engagement rings are worn on the left. 
Fans in the comment section seemed divided, with some claiming that Lewis was engaged while others said it was not true because the ring was on her right hand. Additionally, some fans claimed that the TikToker was most probably just wearing a promise ring. 
Others defended the TikToker, claiming that it was just a ring and she could wear it however she liked without people going off about engagement rumors. 
However, on Instagram, the atmosphere was different. The TikToker had uploaded a series of snaps of her outfit on her Instagram with a caption reminding her followers that they were beautiful. 
In one of the photos, the ring on her right hand was on full display, but unlike people on TikTok, her followers complimented her outfit and mentioned nothing about a potential engagement. 
Although Lewis has not addressed the speculation, she has, however, mentioned marriage plans with Plourde on Young Hollywood. 
Mads Lewis and Christian Plourde on Marriage
On July 20, 2021, Young Hollywood uploaded a video of Lewis and Plourde doing a couple's challenge. 
In the video, they were asked a series of questions, and they had to guess each other's replies. The couple also shared tidbits about their relationship like how they met, when they started dating, and where they said their "I love you."
Towards the end of the video, the host asked them, "if a psychic tried to predict their relationship in the future, what would it be?" Although the duo did not have the same answer, they appeared to be in line with their thoughts. 
Plourde wrote "love wins," while Lewis wrote that she would see them happily married. Lewis then jokingly asked him if he saw marriage, to which Plourde claimed that he saw himself as a married winner. 
It looks like the couple has plans to get married, but who's to say what the future holds for them.