Keeping Up with Kourtney Kardashian and Travis Barker's Relationship
The longtime friends turned lovers are in a blissful romance.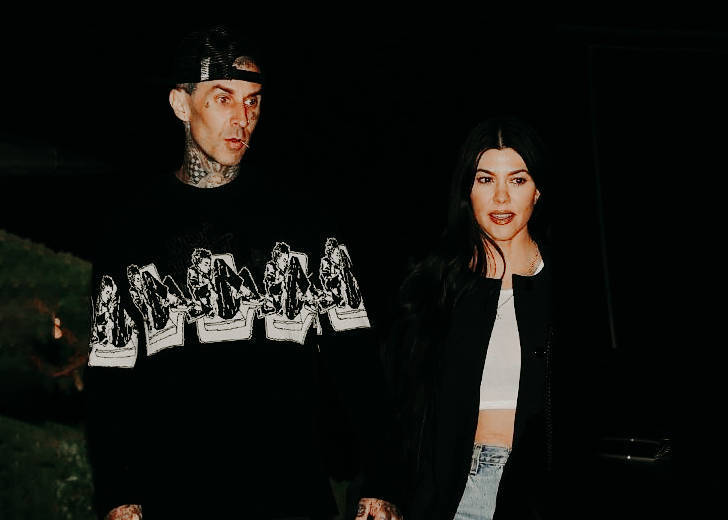 Kourtney Kardashian turned 42 on April 18, and Travis Barker, her boyfriend, was prepared to ring in the occasion with a grand romantic gesture. 
Just a day before her 42nd birthday celebration, Kardashian posted an Instagram story of an enormous and breathtaking arrangement of at least white 200 tulips resting underneath an intricate hanging installation of gardenias in the hallway of her home. She also gave credits to Barker and tagged him, adding a black heart. 
Kardashian also mentioned that tulips and gardenias were her favorite flower, adding that her entire house "smells yummy." Her younger sister, Kim Kardashian, who was at her place, also marveled at the sight stating she had never seen something like that before. 

Kourtney Kardashian's Instagram Story of Travis Barker's Birthday Gift: (Source: Kourtney Kardashian Instagram)
She gushed in a caption that tulips and gardenias were her favorite flowers, adding that her entire house "smells yummy." Barker also reshared her story on his account. 
Longtime Friends Turned Lovers
The duo first sparked dating speculations after they spent time in Palm Springs at Kris Jenner's home. Both of them posted photos of the view of a desert oasis on the same day, confirming that the two had spent time together.
But that was not the first time the two sparked dating rumors. In September 2018 and February 2019, they were spotted grabbing meals together. 
According to E! News in January, a source shared that Travis had always liked Kourtney and that the two had been dating for almost two months. Two weeks after this news, E! News reported that the two seemed pretty loved up at the Japanese restaurant Matsuhisa in Los Angeles. 
Kardashian Finally Debuts Her Relationship
The new couple also celebrated Valentine's Day together. Both of them had the same Instagram story, a snapshot of the same fireplace, but the Keeping Up With the Kardashians star added a romantic touch with a heart emoji. She also dedicated a poem to their blossoming relationship to her Instagram story that read,
Roses are red

Violets are blue 

Garlic bread

Blink-182
Two days later, the reality star went public with her relationship and posted a photo of her manicured hands intertwined with the drummer's tattooed one, confirming the rumors with Barker commenting a black heart post. 
A few days later, he uploaded a sweet handwritten love letter from Kardashian on his Instagram Story.
Kardashian Drops the L Word
After months of dating, Kourtney penned another letter to her drummer boyfriend. This time she made one thing clear; that she loved her new boyfriend and didn't mind the world knowing that. 
On March 23, Barker shared the cute note on his Instagram stores and had fans buzzing with excitement at the fact that they had already professed their love for one another. 
Earlier that month on The Drew Barrymore Show, the host teased the musician that the love note from his lady was hot and that hers would be more about watching movies and not staying up late, but Barker revealed that Kardashian's letter was more his style, exciting and dramatic.