Did Mads Lewis and Christian Plourde Really Broke Up?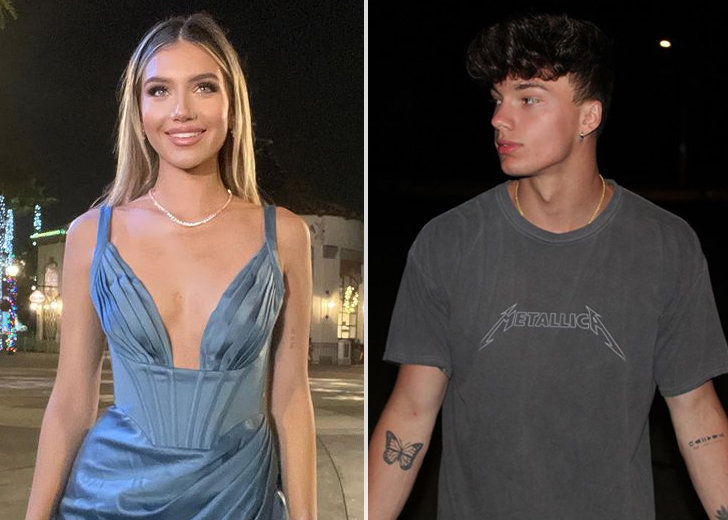 Mads Lewis and Christian Plourde, also known as Sevryn on social media, began dating in June 2021. The TikTok star had made the relationship public through her Instagram post.
However, it now appears that the couple is not together anymore.
The breakup rumors started swirling around the internet a couple of days ago [around January 17, 2022] after the pair removed pictures of them together from each other's Instagram handles.
Not only that, they both don't follow each other on the photo-sharing platform.
Mads Lewis and Christian Plourde's Break Up Speculation
Describing the latest details from the start — the TikTok star, whose full name is Madison Lewis, apparently removed multiple posts from her social media, including those with her boyfriend, Sevryn.
Fans immediately questioned Lewis if something was wrong between her and her man.
Meanwhile, she took to Twitter to post a cryptic tweet, where she stated that her ex-boyfriend, Jaden Hossler, with whom she had broken up in early 2021, was her forever person.
"Jaden will always know where home is. my forever," the deleted tweet read.
But she quickly clarified, through her Instagram story, that the tweet was nothing but fake.
"Okay so, clearly that tweet is obviously fake. And that's all I have to say," she said in the video, which was shared on her story.
In the wake of the situation, fans were again made to think if Lewis' social media was hacked, and that had something to do with her Instagram posts removal and cryptic tweet.


Mads Lewis and Christian Plourde break up rumors started after they unfollowed each other on Instagram. (Photo: tiktokinsiders's Instagram)
But later when fans noticed that Sevryn had also removed the couple's posts and both of them had unfollowed each other on social media, it seemed likely that Lewis and Sevryn had a break up.
Fans Upset over Mads Lewis and Christian Plourde's Split
While both Lewis and Sevryn are yet to address or confirm the break up rumors, fans already seem upset over the news of their split.
At the same time, many are blaming Lewis for being the reason for the separation, while implying Sevryn deserves a better woman in his life.
"I bet he got sick of her always talking about jaden and nessa. She had a whole man who wanted to cherish her and she just wanted problems. Maybe now she'll understand lmaoooo," a well-wisher of Sevryn commented on @tiktokinsiders' Instagram post.
In the same post, another chimed, "now nobody could use the excuse she's 'hacked.'"
A fangirl similarly speculated the couple was no longer dating each other. She also added that the news didn't surprise anyone because Lewis often talked about her ex-boyfriends, even though she had a caring man by her side.
Adding to the context, Lewis previously had an on-and-off relationship with Hossler from September 2019 to early 2021.
They had a rough patch in their relationship around March 2020, when Hossler grew closeness to Nessa Barrett after their song collaboration.
The latter couple even confirmed their relationship later. Meanwhile, Lewis, who was not happy about the drama, eventually claimed that her ex-boyfriend cheated on her.