Mads Lewis Explains Truth behind 'Better than Revenge' TikTok Video on BFFs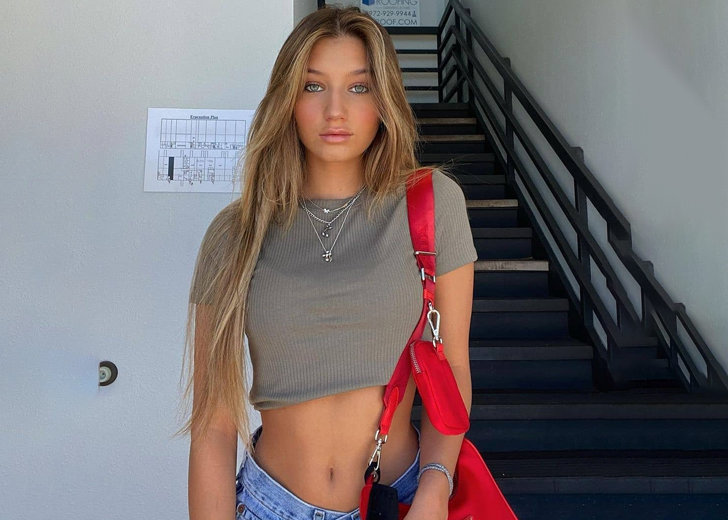 After much anticipation, Mads Lewis finally appeared on the BFFs podcast.
She had initially denied saying that she was afraid of saying the wrong things and causing drama. 
Host Dave Portnoy kept claiming that if anyone could bring her on the show, it was Josh Richards.
But in the podcast, Portnoy and Brianna LaPagalia revealed that it was not Richards who convinced her. 
Portnoy had approached her and convinced her to come on after they decided what topics were off-limits for discussion. 
Lewis also revealed that she agreed to come on the show because she kept getting invited, and for her, it was now or never. Hence, she agreed. 

Mads Lewis and Josh Richards on BFFs podcast (Source: BFFS/YouTube)
The TikTok star noted that March 29 was the date she found out about everything, and by everything, she meant she meant her ex-boyfriend Jaden Hossler cheating on her with Nessa Barrett. 
She said she would address it as a way of moving on from the drama and would never talk about it after this. 
Mads Lewis Better than Revenge Video
During the podcast, Lewis delved into details about her 'Better than Revenge' video. 
Last year Lewis posted a TikTok to Taylor Swift's song 'Better Than Revenge.'
The song is basically about backstabbing and women who steal others' boyfriends.
With lyrics like, "She came along, got him alone, and let's hear the applause. She took him faster than you could say sabotage," the song was perfect for women who had been cheated on. 
And Lewis, who had her heartbroken by Hossler and Barrett, uploaded a video about the three of them, which blew up on the app.
The video started with a montage of Lewis and Hossler, hugging, kissing, and smiling. 
And when the lyric about sabotage dropped, the montage switched to photos of Hossler and Barrett looking suspiciously lovingly at each other. 
She shared that she was furious when she found out about the cheating, and then her friends Sab and Emma encouraged her to post the TikTok. 
So she posted it, but later she got a phone call from her mother who asked her to delete it, and she did. 
Lewis deleted it, but unfortunately, it was too late. The video blew up, and she was caught in the scandalous beef. 
Mads Lewis and Josh Richards Hook Up
Recently Lewis and Richards have been making a lot of TikToks together. 
And this had led to fans wondering if they were dating. 
While discussing the cheating scandal on the podcast, Portnoy asked the duo if they ever thought about hooking up to spite their respective ex-es. 
Lewis admitted she did and thought about making a group chat and sending them pictures. 
Richards said nothing about whether he thought of revenge hook up, but commented that Lewis' thoughts were demonic. 
Towards the end of the video, Portnoy asked the duo if they were ever "close to hooking up."
They looked a little hesitant before finally saying "no."
Portnoy and LaPaglia did not believe them and said they looked too uncomfortable and hesitant, and with that, the podcast ended.