Nessa Barrett Leaked Snippet of New Song 'Gaslight' in Her Spam TikTok Account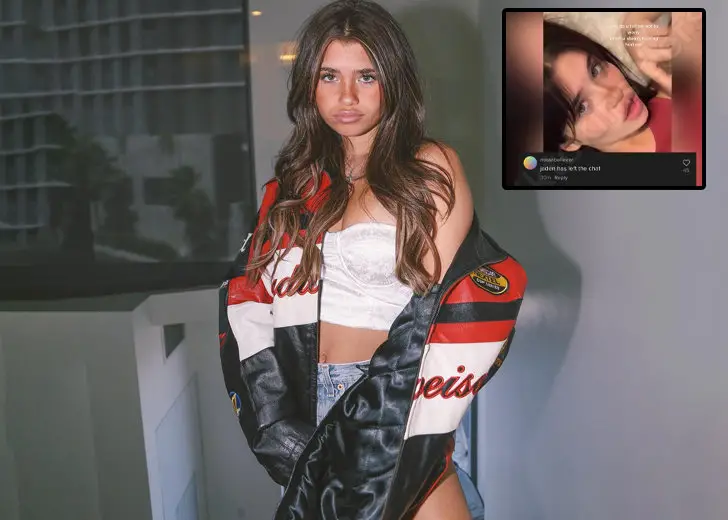 Nessa Barrett is notorious for teasing her fans. 
She often posts about her life and music, which has fans in a frenzy, and within a blink of an eye, she deletes them like the posts never happened.
Recently, the TikTok star released a teaser of her upcoming song 'Gaslight' on her secret TikTok account, "babycowboi."
On March 17, Barrett uploaded a video on TikTok asking her fans if she should leak her new music because the song she had just written was "fire."
In the comments section, she continued, noting that she wrote one for the girlies and that they would relate to it. 
Fans expressed their excitement over the announcement and wrote, "if it's for the girls, then we NEED IT!"

Nessa Barrett's TikTok About Her New Leaked Song 'Gaslight' (Source: tiktokinsiders/Instagram)
Barrett listened to her fans and released the teaser of 'Gaslight' that she deleted swiftly. Fortunately, it was screen grabbed and reshared by tiktokinsiders. 
Nessa Barrett's New Leaked Song
The new song was titled 'Gaslight,' and, as the title suggests, the lyrics were about heartbreak and being cheated on. 
And because of the lyrics, fans assumed she was talking about her relationship with Jaden Hossler and how he might be cheating on her. 
A user commented, "Jaden has left the chat," but Barrett replied and confirmed that there wasn't any trouble in paradise. 
"no no, I wouldn't be able to write about this if I was still in it. He [Jaden] treats me like a princess," replied Barrett. 
The 'La Di Die' artist also took to her Instagram story and clarified that the song was not about her relationship with Hossler. 
Barrett iterated she wanted to be kept out of drama and only focus on her music asked people to stop assuming things about her when they didn't know the truth. 
Previously, Hossler also replied to a user's comment about his and Barrett's music.
According to a screengrab by tiktokinsiders, a user commented, "Nessa writes love songs, and he writes this. Are they in the same relationship?"
Jaden replied, "I think that's the point good sir if it's negative it's not about Nessa."
Nessa Barrett's New Album
'Gaslight' is one of the songs from Barrett's debut album Young Forever. 
The title track 'dying on the inside' was released on February 26, and the music video on YouTube already has 2.2 million views. 
During an interview with Seventeen, the singer opened up about her new song and relationship with her musician boyfriend. 
She shared that she was always embarrassed about her eating disorder, but for her new album, she wrote about it, hoping others could relate to it. 
"The first time I heard ['Dying on the Inside'] after it was done and I played it in my car, I burst into tears. I couldn't stop crying. It was one of the most honest songs that I've ever made," said Barrett. 
She also shared that Hossler was a part of her music creation process.
The duo had recently moved in together, and anytime they had an idea, they would ask the other first to get their approval. 
And it looks Hossler approved of 'dying on the inside.'