Lana Rhoades' Baby Pictures — When Did She Give Birth to Milo?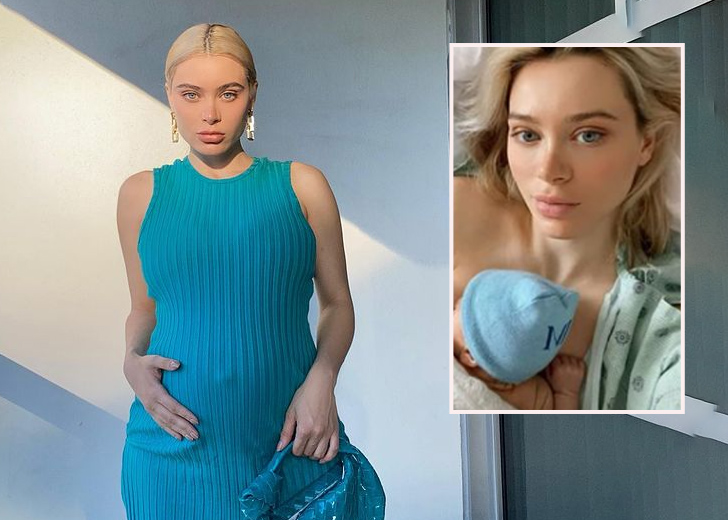 On June 2, 2021, Lana Rhoades took to Instagram to announce she was expecting a baby on January 13, 2022.  
The pregnancy news came right after the model broke up with her boyfriend, Mike Majlak.
As the announcement broke the internet while spurring curiosity regarding her baby daddy, gender of her child, and so on, many assumed that her baby's father was Majlak.
Majlak, however, swiftly cleared his name after the pregnancy announcement, claiming he was not the father. 
Lana Rhoades' Baby Pictures
Rhoades' due date was January 13, 2022, but she gave birth a few days early through induced labor, on January 7, 2022. 
Six days later, she posted her baby pictures on Instagram, writing she gave birth to her "best friend in the entire world."
She mentioned how every day seemed like a Christmas morning since her son's arrival.
"I am loving every second of being a mom and feel so blessed!" the new mother added, revealing that his name was Milo.

Baby Pictures: Lana Rhoades' son Milo on January 14, 2022. (Source: Instagram)
The post revealing her son's birth included three pictures.
The first one featured a photo of a Panda Warmer, a machine that helps the infant stay warm. It showed that her son's weight at the time of his birth was 7 lb and 3 oz. 
Another picture saw her son Milo sleeping in his newly decorated room. The third one was the photo of her parking her car on the "birthing mothers" parking spot.
Rhoades also shared her baby pictures on her Twitter on January 15, 2022. As soon as she uploaded the post, a Twitter fan asked why Milo's hands were covered. 
The model quickly replied, sharing that her son was born with dry hands and feet. So she had to cover them after moisturizing.
Before the bliss, Rhoades had been through tragic miscarriages. 
Her history of miscarriages even sparked rumors about her lying about being pregnant after she posted a photo of herself without a pregnancy bump.
People started questioning her if she was still pregnant with Milo.
"Am I the only one who doesn't see no bump on her? I hope u not lying on this pregnancy Lana," read a fan tweet commenting on Rhoades' picture with a flat belly.
Lana Rhoades Flaunts Postpartum Belly
Rhoades has been showing off her postpartum stomach on Instagram. On January 13, 2022, she posted a picture that saw her lifting her sweater to show her almost flat belly. 
In the caption, she disclosed the photo was taken four days after delivering Milo.
Rhoades also created a separate story section to answer her fans' queries regarding her newly found motherhood.
In one story, she shared that she lost 1.5 lbs a day postpartum. As per her accounts, she was 164 lbs the night she went to the hospital. She lost 15 lbs after delivering her son. 
The mother-of-one clarified that she was 136 lbs and had to shed 15lbs more to reach her pre-baby weight — 120 pounds.
In another story, she revealed she was back to her workout routine eight days after giving birth.
She was admittedly running on a treadmill with 3.5 speed and an 8% incline for an hour twice a day, losing 1000 calories.