Did Lana Rhoades Give Birth? Missing Baby Bump Sparks Confusion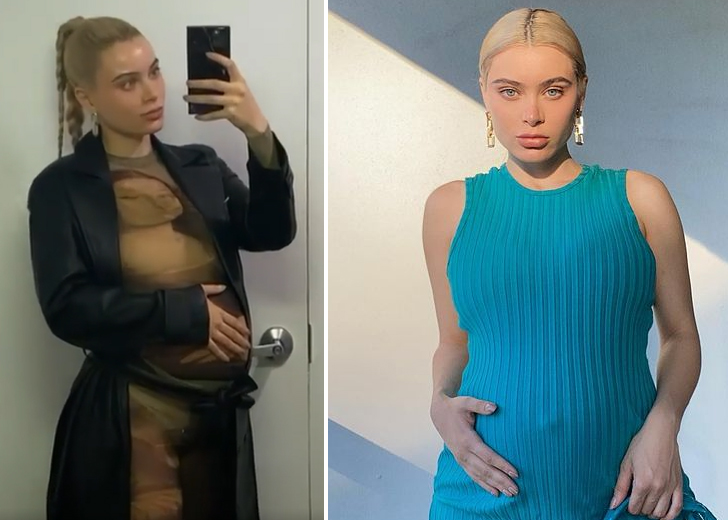 Lana Rhoades' recent Instagram pictures, without a baby bump, have made fans question if she gave birth to her new baby.
On Christmas Day, the model, 25, took to her Instagram to share a series of pictures to wish her followers a Merry Christmas.
In the first picture of the slide, she sported a blue floral bikini as her back faced the camera, and she looked upwards with her eyes closed. She also flaunted a Christmas cap, which seemed to be placed through editing.
"I feel like the Santa [hat] is edited," a fan also noted.
"Is that a candy cane in your pocket or are you just happy to see me? MERRY CHRISTMAS!" the diva wrote in her caption.

Lana Rhoades shares a picture without her baby bump on Christmas. (Photo: Instagram)
However, the pictures saw Rhoades without her baby bump, creating confusion amongst the fans.
One follower asked, "She don't look pregnant what happened?"
"Thought u were pregnant," another chimed.
Lana Rhoades Announced Her Pregnancy in June
People started questioning her if she was still pregnant with her baby because she had announced her pregnancy earlier this year.
In her June 2 Instagram post, Rhoades shared she was eight weeks pregnant with a baby. However, she didn't reveal her baby daddy.
That said, she disclosed that her due date was January 13, 2022, while sharing the photos of her sonogram and medical report.
She was also questioned by the netizens if she was faking her pregnancy.
"Am I the only one who doesn't see no bump on her? I hope u not lying on this pregnancy Lana," one fan said on Twitter, replying to Rhoades' pictures with a flat belly.
To that, the model responded by saying, "Most woman don't have bumps un till 20 weeks first pregnancy! It's reliant on your pectoral muscles and how strong they are. I notice a huge difference in my body BUT to others I still look skinny [sic]."
In another tweet on July 10 this year, she similarly addressed the question such as "You don't look pregnant." At the time, she stated some of the pictures she posted were captured before she was pregnant.
"I really really wish my stomach was still this tiny! It's really difficult adjusting to body changes through pregnancy and every body is different!" she added.
Is Lana Rhoades Still Pregnant?
In the most recent instance, she showed off her baby bump in her December 5 Instagram post, as she shared a seven-second-long mirror-selfie video.
"every day I fall more in love with her and her personality, and her beautiful belly," a well-wisher commented on her post.
Cut to the chase — is Rhoades still pregnant? Presumably, yes, because her baby's birth date is in January 2022.
And if it is about her 'no baby bump Christmas picture,' the picture was likely captured before she was pregnant with her kid.
In the past, however, Rhoades had a miscarriage after becoming pregnant with her ex-partner's baby. Due to that, she was allegedly against abortion and always wanted to be a mom and have a kid.