Everything You Need to Know About 'ZEZE' Rapper Kodak Black
Rapper Kodak Black spent his youth reading thesaurus and dictionaries to work on his vocabulary.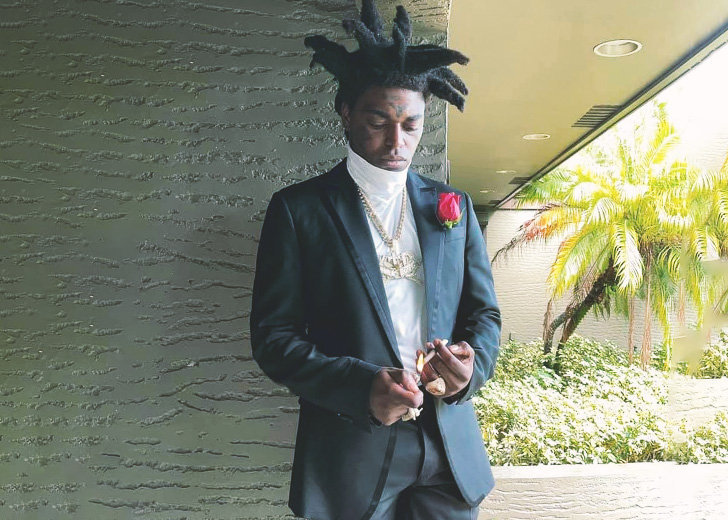 Bill Kahan Kapri, better known by his stage name Kodak Black, is an American rapper, whose career has been marked by multiple mainstream successes, including his popular song 'ZEZE' featuring Travis Scott and Offset. 
Apart from his unique style of music and iconic hairstyles, he is also well known for being surrounded by controversies and legal troubles at every step of his journey to stardom. Here's everything you need to know about rapper Kodak Black.
Where Is Kodak Black From?
The 'Heart Mind' singer was born Dieuson Octave to Haitian immigrants on June 11, 1997, near Pompano Beach, Florida. He was raised by his mother in Golden Acres, a public housing project in Florida.
Kodak Black started rapping in elementary school and began to frequent a local trap house after school. He was interested in writing lyrics from a young age, which resulted in him reading the thesauruses and dictionaries to improve his vocabulary.
From the age of six, his friends used the nickname "Black" to address him and he also frequently used the nickname "Lil' Black".
Kodak Black's legal name is Bill Kahan Kapri, but when he joined Instagram, he chose the username "Kodak Black", which later became his stage name when he started to rap.
How Drake Helped Kodak Black Reach New Heights of Success
At the age of just 12, Kodak Black joined a hip-hop group called Brutal Youngnz, under the stage name J-Black. He left the band and joined another local group that went by The Kolyons but didn't receive success in the industry until he released his solo mixtape, Project Baby, in December 2013. 
He went on to release two more mixtapes, Heart of the Projects and Institution.
In October 2016, rapper Drake posted a video of him dancing to Kodak Black's 'Skrt' which instantly made him famous all over the world. 
Kodak Black describes his music as being about "previous and future criminal misdeeds", and he stated that he's been influenced by rappers like Boosie Badazz and Chief Keef. 
The New Yorker described his "manifestly youthful voice" and "mutinous sound," and stated, "Kapri joins other young rappers who have rejected an old-school emphasis on lyrical variety, individualism, and personal catharsis."
Kodak Black's Legal Battles
Kodak Black was arrested in Pompano Beach, where he was charged with robbery, false imprisonment of a child, and possession of marijuana in October 2015. 
He was let free from the prison and in less than a year later, was again arrested in Hallandale Beach, Florida for possession of a weapon by a convicted felon and possession of marijuana. 
Kodak's New Hair Might Have Inspired Rapper Jay-Z
Kodak Black had an image of having his signature braided hairstyle. His iconic hairstyle became known as "The Kodak Black" but that changed when the rapper debuted with a small afro back in January 2017.
In March 2021, Kodak Black told his followers in a now-deleted Instagram story that the legendary rapper Jay-Z took inspiration from his hair, rather than the other way around.
Rapper Jay-Z was seen showing off his hair at the Grammy Awards in 2021 and received compliments from his fans for his new look.