Justin Timberlake Reminded of Past with Britney Spears and Janet Jackson Following TikTok Debut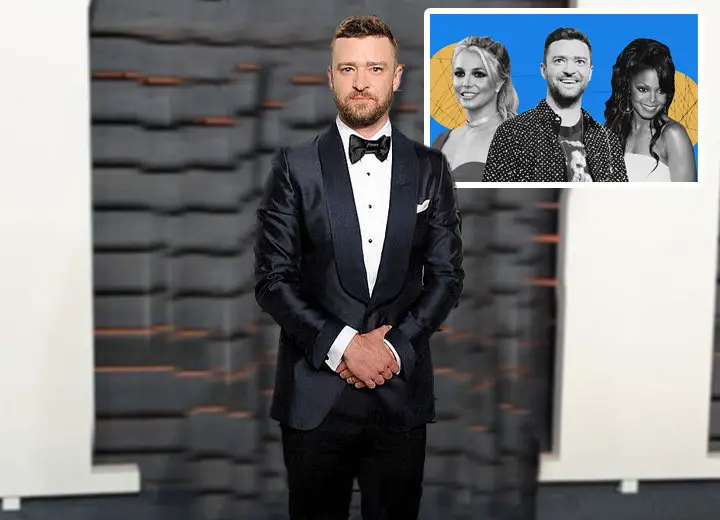 As TikTok continues to rise in popularity, many celebrities are making their TikTok debut. And on July 13, 2022, it was Justin Timberlake's turn.
Timberlake is the fourth NSYNC member to join the popular social media platform.
In his debut TikTok, Timberlake looked directly at the camera and said, "Alright guys, I guess we're TikToking now." He then nodded and ended the clip by jumping up and down with excitement, saying: "You know what? I think this is gonna go really well!"
The video has over seven million views and 470,000 likes and 21,200 comments at the time of writing. 
Many fans were excited at his debut and expressed their love and support in the comments section. Even TikTok commented, "it's gonna go really well too." 
Unfortunately, some people have also taken this opportunity to dredge up his past. 
Fans Want Justin Timberlake to Apologize to Britney Spears
In a video made by entertainment news commentator Joshua Pingley, who goes by @yourbestfriendjoshua on the app, he highlighted the comment, "you owe Britney Spears an apology" from Timberlake's TikTok. 
The comment was the most liked, with over 12,000 likes. Pingley also mentioned that it was shocking Timberlake's video has not gone viral, given he was an A-list celebrity at one time. 
According to one netizen who commented on Pingley's video, there were many other comments about Spears and Janet Jackson, with over 11,000 likes, which he deleted. 
Many people have opined Timberlake owed Spears an apology because of how he treated her after their relationship. 
In 2021, while the Spears conservatorship case was going on, The New York Times released their Emmy-nominated documentary, Framing Britney Spears. 
The documentary covered the musician's past and the events that led up to the court battle over her estate. 
One of the key conversation topics was her relationship with the frontman of NSYNC. After Timberlake and Spears broke up, the latter was accused of cheating even though there was never any proof. 
But the pop singer didn't care and pushed the narrative with his music video for 'Cry Me A River' where he cast a woman who looked a lot like Spears. The song was a hit, and Timberlake became a bona fide solo star with a decades-long, lucrative career. 
Justin Timberlake and Janet Jackson's Super Bowl Incident
While some netizens mentioned Spears in the TikTok video, others brought up Jackson, another woman they opined Timberlake needed to apologize.

Justin Timberlake's apology to Britney Spears and Janet Jackson. (Source: Instagram)
In 2004, Timberlake and Jackson performed during the Super Bowl halftime performance. During their act, Timberlake ripped off a part of Jackson's costume, exposing her breast.
This was part of the act, but instead of ripping off part of her top, he revealed her entire breast, which damaged her career irreparably. 
At the time, everyone criticized Jackson for a mistake that was not her fault. As a result, she was blacklisted by the industry, while Timberlake received very little backlash.
His career went unscathed as he wasted no time blaming everything on Jackson for the incident.
At the time, he said to E! "And, of course, the woman takes the blame even though the man stripped her. Pathetically typical." Timberlake has already apologized to both women, but it looks like netizens do not want him to forget his past deeds.