Jeff Wittek's Leaked Texts Reveal If He Plans to Sue David Dobrik for Eye Injuries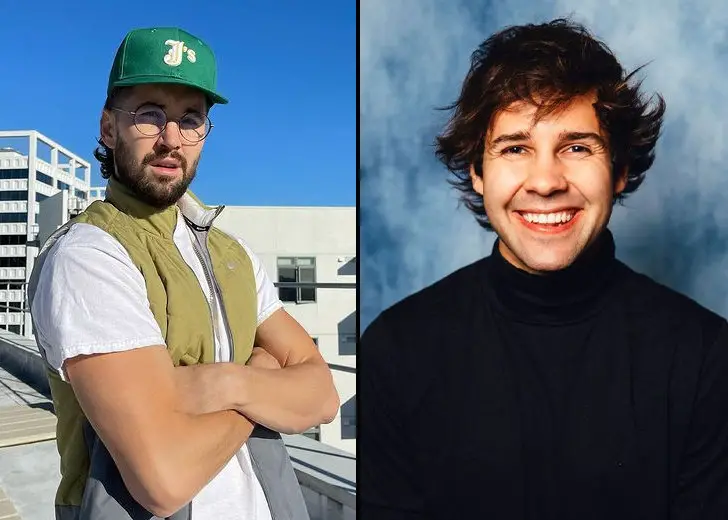 The drama between Jeff Wittek and David Dobrik isn't slowing down.
It all started back in June 2020 when Dobrik and his Vlog Squad — including Wittek — went far too ahead for their content.
They apparently put an excavator in a lake and allowed Dobrik to sit in the driver's seat and spin his friends around on the crane attached to a rope.
But things didn't go as planned, as Wittek collided with the excavator after spinning around at great speeds. The incident permanently damaged his left eye.
Jeff Wittek Calls David Dobrik a 'Fake Friend'
In the next year and a half, Wittek reportedly had nine surgeries around his eyes, but he still has not fully recovered.
In his February 16, 2022, Instagram post, he shared a quick update on his eyes with his followers, writing, "Surgery went great! 9 down 1 to go! Finally got one of these damn plates out of my eye! Thank you for all the love and support."
The post also featured a series of his pictures from the hospital bed, with most of them showing bandages around his left eye.

Jeff Wittek recently gave an update on his eye injury. (Photo: Instagram)
In the wake of the situation, many fans asked him if Dobrik had messaged him to check up after the surgery, to which he answered by stating that the YouTuber had not been in touch with him for a long time.
"Nope. Nope. Not a text or nothing," Wittek revealed. "Not surprised, you know. It is what it is… I'm done being fake friends with that [expletive]."
Not just that, Wittek even hinted that he was no longer friend with Dobrik by recently unfollowing him on Instagram.
Jeff Wittek on If He Plans to Sue David Dobrik
After discovering that Dobrik was ghosting Wittek, fans started asking the internet personality to sue the fellow social media star for a life-long eye injury.
"No [expletive], it's not too late to sue him for the lifelong injuries," one fan commented in Wittek's post.
Another added, "I really hope Jeff gets justice, tbh."
"So happy to hear your surgery went well. I've been praying for you. Hope you have a fast recovery," someone also sent good wishes.
In addition, DramaAlert, an online entertainment and news reporting media, also reached out to the YouTuber via text message to ask if he had any plans to sue Dobrik.
"Are you planning on suing David for the injuries," the outlet asked.
Replying to that, Wittek wrote, "Nah I'm just pissed. he let me down in a lot of ways. I was hoping he'd grow from his mistakes but he's gotten worse."
The text was leaked on DramaAlert's recent YouTube video while reporting the same news about the excavator stunt and eye injury.
It is now clear through the texts that Dobrik won't be sued for his past actions, as Wittek is not willing to do it.
Moving forward, Wittek is presently set to co-host the Roast Of Bryce Hall on February 25th, with fellow Vlog Squad members Nick 'Jonah' Antonyan and Jason Nash.