Does Jay Cutler Have a Girlfriend? The Former QB's Relationship History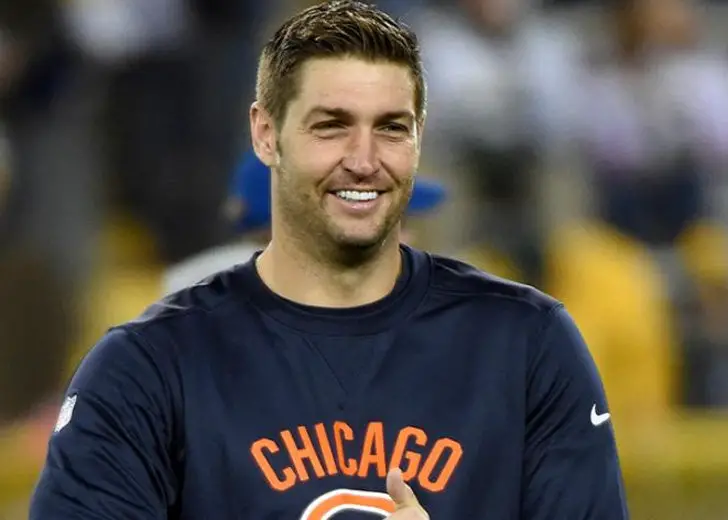 It is unknown who Jay Cutler's girlfriend was before Kristin Cavallari. However, the former Chicago Bears quarterback had a reputation of being a party boy, and many girls were dubbed his girlfriend.
However, none of them were confirmed. Cavallari is his former wife, with whom he had the longest yet turbulent relationship.
Their relationship was not always rainbows and butterflies. It was often featured on Cavallari's reality show, Very Cavallari.
Everything was broadcasted on Very Cavallari, from them not being on the same page about things to cheating rumors. The two were together for almost a decade before parting ways.
And when they separated, they had a messy divorce that involved their families and kids.
Jay Cutler and Kristin Cavallari's Relationship
Cutler and Cavallari started dating in September 2010 after being introduced by Giuliana Rancic. The reality TV star discussed their relationship in her 2016 book, Balancing in Heels.
The former NFL player told his new girlfriend that he loved her after just a couple of weeks of dating. Then, he confessed to wanting to marry her after two months of the relationship.
Everything was going quick for Cavallari, but "it made sense" to her. He was everything she was looking for, so she went with the flow.

Jay Cutler said he wanted to marry Kristin Cavallari after she was his girlfriend for two months. (Source: Page Six/ Twitter)
After dating for eight months, Cutler proposed to her in April 2011. The reality TV star said yes, but the pair called off their engagement in July 2011.
Cavallari knew something was wrong with them, and she wanted to change it. She did not want to be his wife and stay at home all the time.
However, the only way she could do it was to break up. She confessed in her book that if she did not part ways, she would resent her partner.
However, the pair reconciled and eventually married on June 7, 2013. Before they tied the knot, Cutler and his spouse welcomed their son, Camden, in 2012.
In 2014, they were blessed with another son, Jaxson, and a year later, with a daughter, Saylor. Unfortunately, the trouble in paradise started in 2017 after Cutler retired from the NFL.
They had their ups and downs before, but they escalated after 2017. Cavallari has been open with the problems in their marriage, but when there were cheating allegations against her husband, she supported him.
In Season 3 of Very Cavallari, Cutler was accused of unfaithful to his partner with her best friend, Kelly Henderson. The reality TV star said she did not believe the rumors.
However, in April 2020, the couple parted ways. At first, the split looked amicable, but later, in the divorce filing, Cavallari said Cutler was guilty of "inappropriate marital conduct."
She cited irreconcilable differences as the grounds for divorce and said Cutler's actions "renders further cohabitation unsafe and improper." It is reported by various sources that the couple was hostile.
Cutler allegedly had a nasty temper which affected Cavallari and her workplace. However, the pair sorted their relationship in private and have not said anything about this issue.
In the end, the pair agreed on co-parenting their three kids and being civil with one another.
Jay Cutler's Girlfriend after Kristin Cavallari
Cavallari moved on after the divorce, and she was linked with many people. She was linked with the country singer Chase Rice.
However, neither of them explicitly announced the news. As of April 2022, Cavallari has revealed via Instagram that she was ready for another relationship and open to the idea of marriage.
Cutler had a little difficulty moving on from his former girlfriend. In August 2021, he talked about dating and his priorities on his podcast, Uncut with Jay Cutler.
He confessed it was hard meeting other people because his priorities changed. He had kids now and was in a different phase of his life to prioritize making a girlfriend.
However, in September 2021, Cutler was linked with his new girlfriend, Jana Kramer. They went on a few dates and made a public appearance at an opening of a rooftop bar in Nashville.
Unfortunately, Cutler's relationship with his new girlfriend did not work out. As a result, they parted ways just after a month of dating.
Currently, the former NFL player does not have a girlfriend.
Us Weekly reported in March 2022 that he was "still very much hung up on Kristin." A source told the tabloid, "He still has a lot of love for her and wishes things weren't as they are."