What Happened To Jake T. Austin & Ex-girlfriend Danielle?
A look into the dating history of actor Jake T. Austin and fan-girl Danielle Caesar.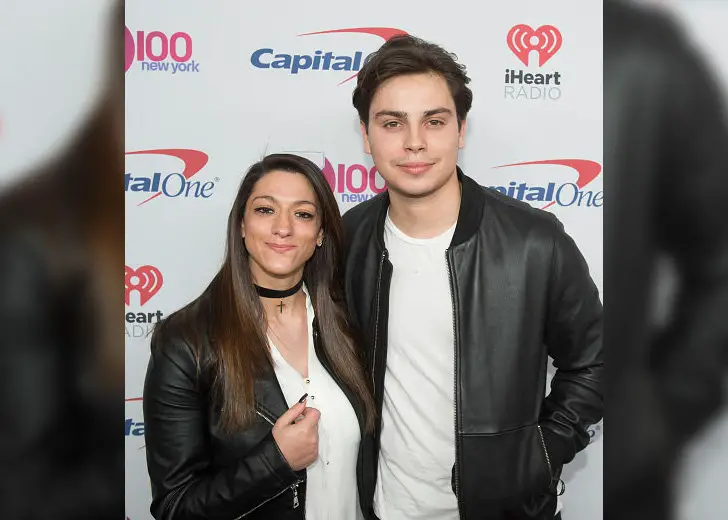 American actor Jake T. Austin's name comes in the list of famous stars who have dated normal people. 
In 2015, the Wizards of Waverly Place star publicly began dating his biggest internet admirer, Danielle Ceasar, after they first met at an autograph signing event at Planet Hollywood in 2011 and confirmed their relationship four years later.
After her persistent tweets to grab Austin's attention in 2009, the actor finally agreed to meet her in person. They hit it off, followed each other on social media, and gradually took their relationship to the dating status, but details about their relationship were not public.
They only confirmed their relationship four years after the in-person meeting. Still, it is not known when exactly they began dating. 
As a couple, their relationship illuminated reminiscent of the earlier times Danielle had tried to woo him through her sweet and sassy tweets when she was just a fan. But this time, in the lovely pictures, they were together as a couple, cuddling, kissing, going on dates, and making us jealous. 
In an interview with People, the actor stated that he met and connected with her at the right moment. 
"We're young and having fun just getting to know each other. It doesn't matter how you meet someone—on set, in a coffee shop, at school, or in the business," he said, adding, "Sometimes you connect with people at the right moment, and you just click." 
And before what seemed to be their breakup in 2019, Austin deleted all images of Ceasar from his Instagram. The couple had been dating for several years.
In this article, learn about Austin and his ex-girlfriend Danielle's relationship timeline and their breakup. 
Who is Jake T. Austin? 
Born on December 3, 1994, to a mother of Puerto Rican, Spanish, and Argentine descent and a father of Polish, English, and Irish ancestry in New York City, United States, Jake Toranzo Austin Szymanski, known by his stage name Jake T. Austin, has a younger sister named Ava. 
Austin's career started with commercials and progressed to both television and films. His first television acting credit was playing "kid 1968" on The Late Show With David Letterman.
How did Jake T. Austin and his ex-girlfriend Danielle separate?
As reported by HuffPost in 2016, he started dating Danielle Caesar, who is also from New York, after she repeatedly tweeted at him for more than five years. The fan girl's adamant nature finally got her the rewards when the actor noticed her. 

As it is often said, patience is the key to success, and it was the case with Caesar because, in 2011, she got the chance to meet her heartthrob at an event in Planet Hollywood, New York. She was lucky to have a photo with Austin. 
Danielle Caesar tweeted about her love for Jake T. Austin for FIVE (5) years before they started dating in 2016. 😲 The two met IRL at Planet Hollywood in 2011, & Jake followed her back on Twitter sometime after that.

As of 2021, Danielle appears to be dating someone else. pic.twitter.com/g7v89zcKMZ — BuzzFeed (@BuzzFeed) June 20, 2021
After their meeting, they gradually developed their relationship and took the time to announce that she was his girlfriend publicly. In 2016, the famous actor posted a picture on his social media account to disclose his relationship with the fan girl. 

The caption read, "I'm crazy for her."
When did Austin and his ex-girlfriend Danielle Caesar break up?
Fast forward to 2021, and the couple parted ways and were no longer together. Austin seemed to be without a girlfriend and instead focused on achieving his filmmaking dreams. 
In an interview with A Book Of, the actor said he was looking forward to achieving more in acting and wanted to become a director, writer, and producer. He called his ambitions, such as directing and writing, his "long-term goals."
He then remained busy working on the thriller Daft State as Josh and the television series Rise.
On the other hand, Caesar, age 29 as of this writing, began dating an up-and-coming singer who goes by the alias of Colby. She announced her relationship with her boyfriend via her Instagram post. 
However, Coly has not been seen on Danielle's social media since 20121. She gave birth to a beautiful daughter, Layana, on November 13, 2022.
What happened to Jake T. Austin?
Austin began his career in 2002, acting in TV commercials. However, his big break arrived in the popular Nickelodeon animated series Dora the Explorer, where he voiced the well-known character named Diego. 
Later, the actor once again lent his voice to the character of Diego in another Nickelodeon project titled Go, Diego, Go.
In 2007, Austin was cast as Max Russo in Disney's production Wizards of Waverly Place, where he worked alongside well-known actress and pop icon Selena Gomez for four years. 
Due to his work on the show, Austin won the Hollywood Teen TV Awards in the Favorite Television Actor category in 2012. Later, he was also seen in the Hannah Montana TV series. 
Austin's big movie break arrived in 2011 when he voiced Fernando's character in the hugely successful movie Rio, a 20th-century Fox production. He was later retained to work in Rio 2.
The actor, in 2013, was cast as Jesus Foster in ABC's drama series The Fosters. His work in the program was lauded, and as a result, the show and the character's name are now attached to his identity.
He played the role till 2016. He clarified in January 2017 that he left the series after the second season to focus on roles with "more substantive content," as he also didn't like that he only got the opportunity to act in the three episodes in the season. He was then replaced by Noah Centineo.
On August 30, 2016, it was announced that Austin would compete on season 23 of the celebrity dance reality show, Dancing with the Stars. However, Austin and his dance partner, Jenna Johnson, were the first dance couple to be eliminated.
In July 2022, it was announced that Austin was included in the upcoming cast of the action comedy Pledge Trip alongside personalities such as Rob Schneider and Isabella Gomez. 
Austin also seems to be inactive on his social media. His last Instagram post was made on October 15, 2022. As of writing, his estimated net worth is $5 million, according to Celebritynetworth.