Harry Jowsey and Charly Jordan's Kissing Video Goes Viral Amidst Dating Rumors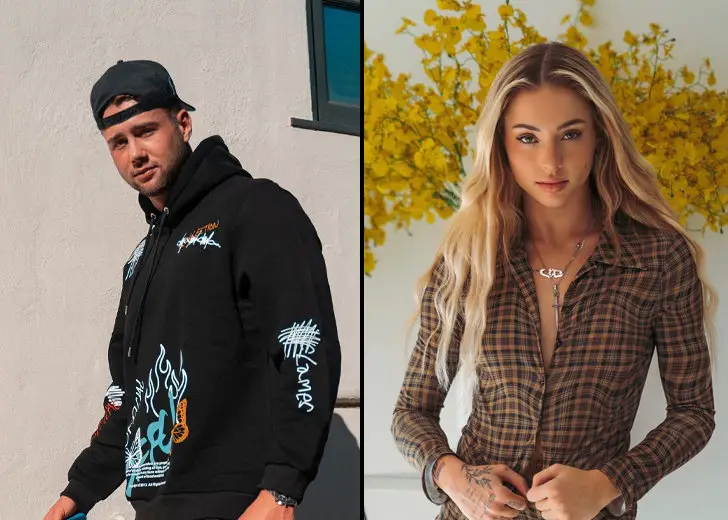 Harry Jowsey and Charly Jordan were rumored to be dating from a few weeks back. Their possible relationship has been discussed in many podcasts and elsewhere by fans.
However, the duo had remained relatively quiet about the speculations. Jordan even denied them dating in an interview recently.
But, a recent clip of them engaging in PDA has added fuel to the fire.
Harry Jowsey and Charly Jordan's PDA Goes Viral
On February 13, 2022, someone named Christina Elizabeth on TikTok posted a clip where Jowsey and Jordan were spotted getting intimate at a club. They were on the dance floor with arms around each other.
While moving along with the music, they then started kissing each other. That only lasted for a second or two, though.
"NOT HARRY JOWSEY AND CHARLY JORDAN MAKING OUT AT THE CLUB," read the text on the video.
In the comment section of the video, people had mixed reactions to the revelation. "Damn they are THAT couple at the club..," someone wrote, inferring to their PDA in a public space.
A few others were disapproving of the relationship, and even said he had a girlfriend. Some were asking if he was friends with Tayler Holder, with whom Jordan has a bit of history.
Many others were approving of their connection, while some were also advocating that people leave the couple and let them live their lives.

Harry Jowsey with Charly Jordan at New York Fashion Week in February 2022. (Photo: Twitter)
On a completely unrelated note, many people wanted to know what she was smoking. "My girl with the joint in her hand we love Charly," one chimed in.
Jowsey, himself, too, left a comment, though unrelated to the dating rumors. He just wanted to know about some guy who fell while he was at the club.
Harry Jowsey and Charly Jordan's Dating Rumors
Jowsey, who was recently linked with Khloe Kardashian, sparked dating rumors with Jordan around January 2022.
During her appearance on Dave Portnoy's BFFs Podcast in late January, she was asked if she was going out with Jowsey.
She went on record saying she was not dating him at the time. When asked if she was single at the time, she replied, "I am single right now."
It has to be noted that she did have a slight smile on her face when Jowsey's name was brought up.
Fast forward to February 9, BFFs Podcast then claimed that they were indeed together. Portnoy and friends said they had seen the two together on a date at a lunch place.
They also did not refuse to be outed as a couple, according to Portnoy. 
These signs are further supported by their latest, and frequent appearances on each other's social media.
Jowsey and Jordan posted about their time together at the New York Fashion Week. Jowsey's posts were just about them having out together backstage at the events.
Jordan was, however, a bit more cheeky with her post. She posted a clip on TikTok where they are seen playing with snow.
They were having a good time hugging each other. The song, too, provided a few hints.
Her choice of song was Frank Sinatra's classic, 'New York, New York,' and the video ended with the legend singing "start spreading the news."
News of their new relationship, maybe?