Did Gabbie Hanna Delete Her YouTube? Shocking Wipe Out Explained
Gabbie Hanna said goodbye to the Internet.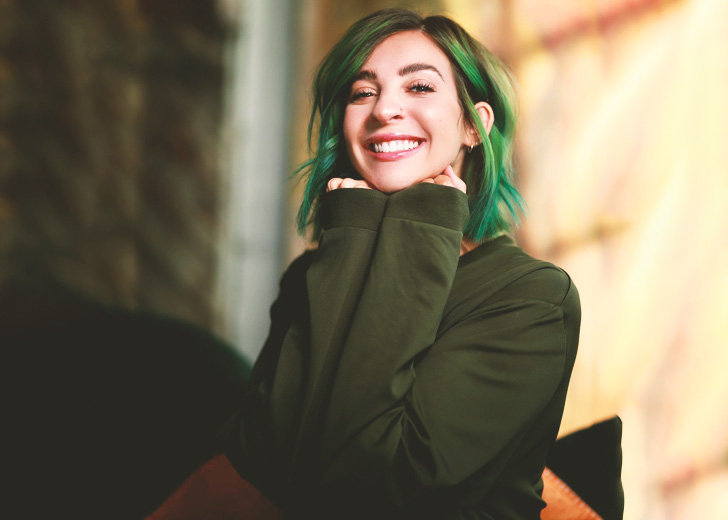 Gabbie Hanna is leaving the internet. One of the most controversial YouTubers took a drastic step on October 18, 2021, and wiped clean her social media, including YouTube, Twitter, Instagram, and TikTok.
She took this drastic step without informing her fans and followers. 
Why Did Gabbie Hanna Delete Her Social Media?
Regardless of having controversial takes and unpopular opinions, Hanna still had a massive fanbase. She had over 5.48M subscribers on YouTube, 2.4M followers on Twitter, 2.7M followers on Instagram, and 7.3M followers on TikTok. 
All the contents from her social media accounts have been removed, leaving her fans puzzled. 
However, it seems like she made most of the contents private instead of deleting them. According to Social Blade, Hanna's YouTube Channel, The Gabbie Show, still has over 1.09B views. 
Similarly, she has deleted tweets and replies from her Twitter, but the likes are still available. All the posts from her Instagram have been deleted, except for IGTV videos. 
This move from Hanna came off as a surprise since she had not mentioned leaving social media before. However, in retrospect, she had hinted about leaving YouTube a few times since she talked about her being bullied by various drama channels. 
Similarly, there have been a couple of petitions over the years to remove Hanna from YouTube. The most famous petition out of all currently has over 23,000 signatures. 
Hanna has also been very open about her mental health issues that had emerged because of the YouTube community in now-deleted videos. Therefore, it is understandable that social media took a toll on her, so she decided to leave it. 
Hanna just gave one statement about her current situation to DramaAlert. The channel host, Keemstar, tweeted that Hanna simply said, "I left the internet."
Keemstar gave his own opinion about the situation as well. He assumed Hanna took this step because she was constantly being bullied by Drama Channels.  
Gabbie Hanna's Controversies 
Throughout the years, Hanna has been involved in a lot of scandals with fellow YouTubers. In 2017, she uploaded a video about a girl dying in school.
The video was said to be tone-deaf and was not digested well by her audience. She also had a Kenza Cosmetics sponsorship, where she marketed make-up brushes.
While the goods were free, the customers had to pay for delivery. Many of her fans bought the brushes, only to be disappointed. Most of them did not get their product for two months, and those who did were disappointed with their poor quality.
Hanna was accused of scamming her fans, and she responded by saying the brushes were free, so people should not have expected much. 
The most damaging controversy Hanna ever got into was with fellow YouTuber Jessi Smiles. She discussed this scandal with BuzzFeed on June 4, 2021.  
Smiles and Hanna used to be best friends, but the friendship toppled over when Hanna did not side with Smiles. Smiles accused her ex-boyfriend Curtis Lepore of sexually assaulting her in 2013, to which Lepore has confessed. 
Regardless of Smiles confessing it to Hanna and asking her to support the latter, Hanna continued to talk and collaborate with Lepore. Whenever the two of them discussed the topic, Hanna made herself the victim and blamed Smiles. 
This was the beginning of the end of Hanna's career. Fans blamed her for not siding with her best friend. 
Trisha Paytas and Hanna have been feuding nonstop since 2019. This is because Paytas exposed Hanna for allegedly lying to their then-boyfriend Jason Nash about them having herpes.
Hanna also accused Paytas of smearing her name and causing her to lose business partnerships. Hanna also denied being friends with Paytas on several occasions. The pair had done a podcast together to squash the beef but all in vain. 
Fans were driven over the brink by the recent drama, in which Joey Graceffa and Daniel Preda revealed Hanna's problematic behavior on the set of Escape the Night.
Hanna acted like a diva on set and made unreasonable requests about the food she was provided. Similarly, she fought with many colleagues and blamed Graceffa and Preda for not fulfilling her interests. 
Hanna blamed her conduct on her fight with ADHD in response to criticism. However, people were outraged that she exploited her mental illness to explain her toxic behavior. 
Now, nobody knows what is going on with the YouTuber and what move will she take next. However, she is scheduled to appear on Red Table Talk: The Estefans as a guest, so she may spill the beans there.