'The Good Doctor' Freddie Highmore Confirms He's a Married Man but Leaves Wife's Identity a Mystery
Freddie Highmore is one happy brit after getting married recently.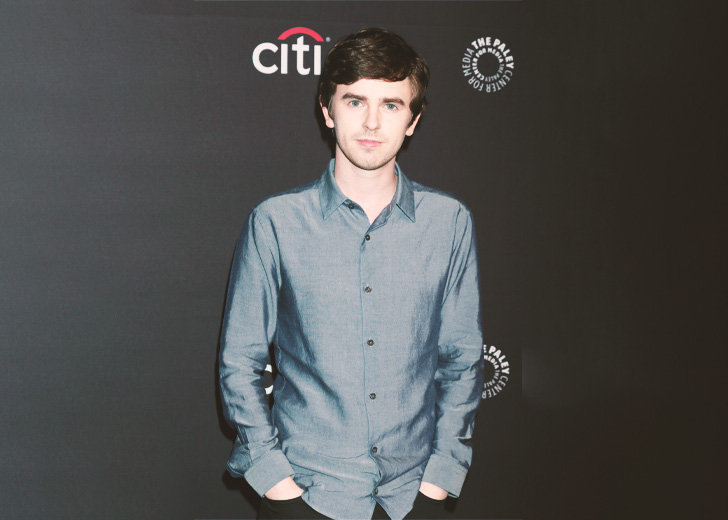 The Good Doctor star Freddie Highmore has recently made his marriage public. The announcement brings an end to the frequently asked question, is Freddie Highmore married?
Talking with popular talk show host Jimmy Kimmel on Jimmy Kimmel Live, the British actor announced his marriage. However, he was very secretive about his wife and did not reveal her identity. 
Highmore is the same kid who took over the hearts of millions of movie fans in 2005 with his performance in the Johnny Depp starrer Family/Fantasy movie Charlie and the Chocolate Factory. 
In the evergreen movie, Highmore was seen playing the lead character named Charlie Bucket who finally gets the golden ticket necessary to enter the mystified Chocolate factory.
What Did Freddie Highmore Reveal on Kimmel?
During the show, Kimmel took a glance at Highmore's fingers and told him, "I'm looking at your wedding ring right now. That's a wedding ring?" Highmore replied by saying, "Yes, it is a wedding ring. Yes, I got married."
It's funny — ever since I've been wearing this ring, people have been asking me if I'm married, so I figured I should clarify it.
Later, Highmore joked that he is "not going to jump up and down on the couch" and express "my excitement that way."
This particular expression is a nod to famous actor Tom Cruise who in 2005 jumped up and down on a couch during a talk show while he was dating American actress Katie Holmes. With a beaming smile on his face, The Good Doctor said that he's "married to a very wonderful women now" and, in the process, revealed his wife to be British. 
Speaking to Kimmel, he stressed how he does not have the proper "terminology and vocab[ulary]" to describe his married life. As per the actor, a "married man" sounds very old, and at the same time, Highmore shared how the terminology "my wife," sounds very possessive. 
On the contrary, Highmore expressed that it "sounds a little bit better" when called by his wife as my husband.
Highmore's Relationship Status before His Marriage
Despite his secretive nature, the August Rush actor's dating history is known in public.
As per Us Magazine, Highmore first started dating Irish actress Sarah Bolger in 2006 after they met at the audition of Spiderwick Chronicles. However, after spending time together for three years, the two called it quits. 
The Finding Neverland actor was then rumored to be in a relationship with actress Dakota Fanning after the two were spotted having dinner at Il Cielo in Los Angeles in 2009. At the time, many speculated Fanning to be Highmore's girlfriend. However, after this one public sighting, they were never seen together in public places. 
In 2011, Highmore was seen in relatively close company with popular actress Emma Roberts and the rumors of the two being in a relationship started circulating on the internet.
Talking to Teen Vogue in 2011 about the American Horror Story Alumna, Highmore said, "it was really fun getting to work with Emma [Roberts], I think it made the more intimate scenes definitely easier." 
During the time, Roberts was thought to be Highmore's girlfriend as the two were understood to be spending time together while filming for their movie, The Art of Getting By was ongoing. 
Prior to his recent marriage with the unknown brit, Highmore's name was linked with the beautiful actress and singer Abigail Breslin. Miss Breslin is better known for her role in M. Night Shyamalan's critically acclaimed 2002 horror sci-fi Signs.