Erykah Badu Denies the Obamas Made Her Apologize for Leaking Birthday Footage
Barack Obama's 60th birthday celebration had a "no photography" rule set in place for guests.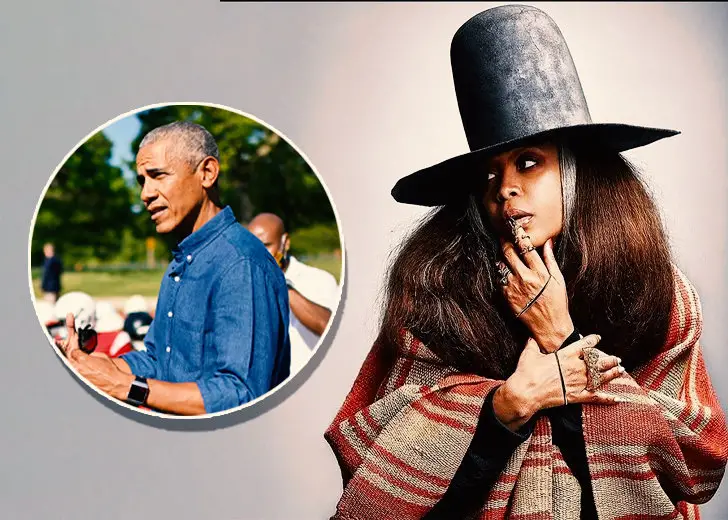 Erykah Badu was one of many limited guests at former US President Barack Obama's 60th birthday celebration.
The singer-songwriter was also the one who gave the world a sneak peek of the party by uploading a short clip of herself while highlighting others in the background. However, that was not allowed. There was reportedly a "no photography" rule set in place for guests.
In the leaked video, she showed the former President holding a microphone and doing his little two-step on stage before hugging American singer H.E.R.
After realizing her mistake, she quickly deleted the video, but it was already late. Many took screen recordings of the video and shared them with the world.
Following that, she took to her Twitter to issue an apology to the Obamas. She wrote,
Mr. And Mrs. Obama, Please forgive me 4 being the "terrible guest" at such a sacred event for your family. I was so inconsiderate, Thank you for all your love. What an example of 'how NOT ' to be... erica.
And while many praised her for such a good gesture after a mistake, some alleged that the Obamas made her take down the video.
"Girl, you came correct for what you did and that is what's important. Just don't do it again. It hopefully is all good," one tweeted. Another added, "It happens, you're still loved."
"They made you take down the video and apologize publicly, lol," someone insisted.
I came looking for this tweet because I was gonna say it too. We see it our eyes have been opened — Sorry Breonna (@Tiffs_Swagg) August 13, 2021
Replying to one of those 'backlash' tweets, Badu denied that she was asked to take down the video by the Obamas. Instead, she stated it was the right thing to do.
It turns out the Dallas native wasn't the only one to share pictures from the birthday bash. The likes of rapper Trap Beckham and his manager TJ Chapman also took to their respective social media handles to give their fans a glimpse of Obama's birthday.
In their posts, Beckham and his handler posted snaps of the open bar, buffet consisting of steak, chicken, and shrimp with rice, greens, and potatoes on the side, as well as them smoking cannabis, which is legal in Massachusetts.
But similar to Badu, they also deleted their posts soon after they received huge attention.
"Had to delete everything due to the rules," Beckham reportedly explained. "It was epic for sure. If any videos surface it's going viral. He danced the whole time. Nobody ever seen Obama like this before."
Obama celebrated his 60th birthday last weekend at Martha's Vineyard. The event reportedly saw Steven Spielberg, Bradley Cooper, Tom Hanks, Jay-Z, George Clooney, Beyoncé, Jennifer Hudson, Don Cheadle, Gabrielle Union, and Dwyane Wade, among many A-list celebrities. 
All the guests were welcomed with Gold napkins, masks, and backstage passes, which were emblazoned with 44X60, referencing the 44th president's 60th birthday.