Erykah Badu's Kids' Fathers Are the Best Of Friends — A Look into Her Incredible Family
Erykah Badu has three children with three different rappers however, all four artists are best of friends.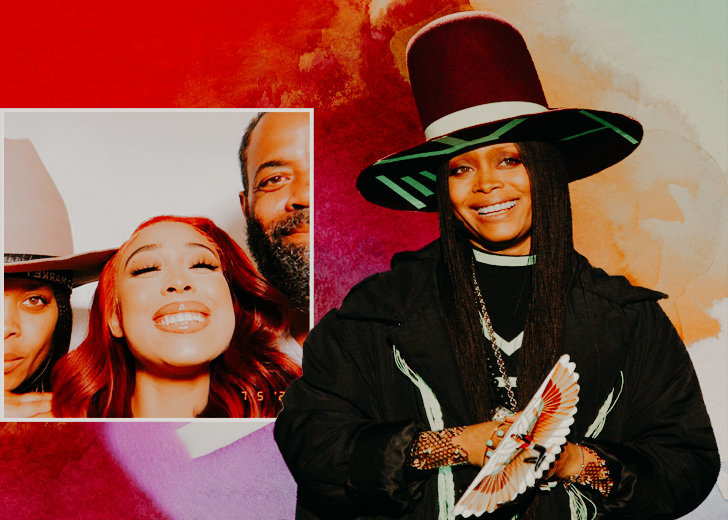 ​​​​Grammy-winning artist Erykah Badu is not only a singer but also a record producer and an actress. Since her debut album in 1997, the singer has released five studio albums, one live album, and two Mixtapes. 
Similarly, she has gone on ten tours, from 1997 to 1998 and then continuously from 2001 to 2010. 
Badu is also rather active in the film industry. From TV series and live performances to movies, she does it all. 
The actress also has an interesting personal life. She has three kids with three different rappers — André 3000, D.O.C, and Jay Electronica. Here is what we know about her children and their fathers. 
Badu and André 3000 
Badu met the rapper at a club in New York back in 1995. Weeks after the release of her first album, Baduizm, their first child was conceived.
In an interview with The New Yorker magazine, André 3000 revealed that the pair had to decide if they wanted to keep the child or not because of their hectic schedule. 
Regardless, they kept the baby, and Seven Sirius Benjamin was born on November 18, 1997, the same day Badu's live album, Live, was released. Even though the pair separated soon after their son's birth, they still have a close relationship with one another.
Badu And D.O.C
Shortly after the birth of Seven, Badu started dating Dallas-based rapper D.O.C. The rapper had been in a gruesome accident that took his voice away, reducing it to a raspy whisper. He was in a critical position with his life and career, but meeting Badu helped him get away from his dark bubble. 
Badu gave birth to their daughter Puma Sabti Curry on July 5, 2004. The duo was together for a few more years before parting ways. Despite them not being involved romantically, they remained in touch. D.O.C. even considers the singer to be one of the closed people in his life. 
Badu And Jay Electronica
The singer's third child was also with another prominent rapper — Jay Electronica. On February 1, 2009, Badu gave birth to Mars Merkaba Thedford, her second daughter. Like her brother and sister, Thedford was also born at home. 
The Rappers Are Friends With Each Other 
In an interview with DJ Vlad, D.O.C opened up about his relationship with André 3000 and Jay Electronica. He revealed he loves and respects his fellow rappers. He confirmed he is on excellent terms with them and said that he is a great fan of both of them.
D.O.C said they all love each other and want the best for one another. Implying how good his relationship is with his fellow rappers, he said that if he called and asked them to come to him, they wouldn't hesitate. 
Badu Doesn't Consider Herself A Single Parent
Not only the rappers, but Badu herself is best friends with all three of her previous lovers, and they co-parent perfectly.
She told The New Yorker that all the fathers are always there with her. Since the rappers mostly live in Dallas, they have formed a tight community amongst themselves.
The hub for the rappers is Badu's lakefront house, where the fathers hang out with their children.