Dominic Fike and Hunter Schafer's Alleged Cheating Scandal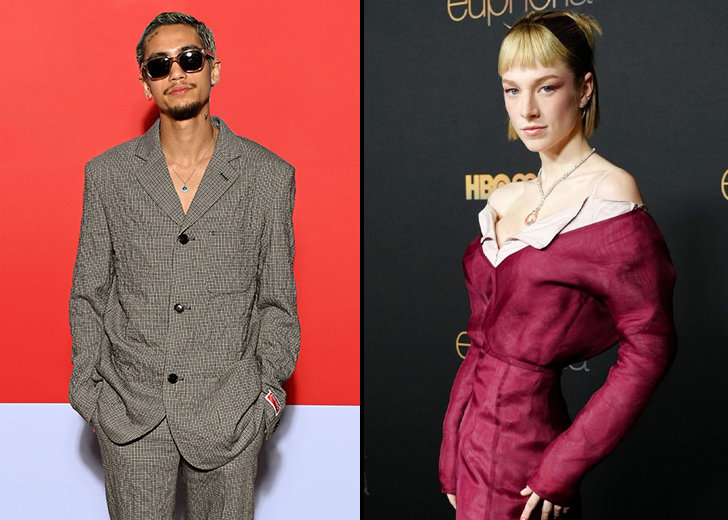 Disclaimer: The content includes plot details for Euphoria 
Euphoria is one of the hottest shows on HBO Max currently. The teen drama television series has earned legions of devoted fans who cannot get enough of the cast members.
These fans have taken to social media to get the latest tea on their favorite star's love life. First, there were rumors that Zendaya was dating Jacob Elordi. 
Then netizens started claiming Angus Cloud and Maude Apatow were in a relationship.
Dominic Fike and Hunter Schafer Dating
And now, the latest pair of stars to be linked are Hunter Schafer and Dominic Fike. 
Fike joined the show in season 2 as Elliot, while Schafer, who portrays Jules, has been a regular on the show from the beginning. 
Elliot and Jules are in a love triangle with Rue, played by Zendaya. 
It appears Fike and Schafer have taken their chemistry offscreen, as they are allegedly involved romantically in real life. 
According to Vanity Fair, the two actors were spotted at a restaurant in Hollywood. As they were leaving the restaurant, they held hands and were even "kissing and dancing."
However, the actors have not addressed the rumors; no one knows if it's true or just a publicity stunt. 
Dominic Fike Cheating on Hunter Schafer With New Girl
But just as the rumor was picking up, there are now claims that Fike is allegedly cheating on Schafer with a new girl. 
On February 8, popular Instagram account Deuxmoi reported through an anonymous tip that a couple from a popular HBO show had a cheating scandal at hand. 

Dominic Fike cheating on Hunter Schafer post from Duexmoi (Source: Duexmoi/Instragram)
The source did not name anyone, but they left clues. They mentioned that "he and his girlfriend" have birthdays on December 30 and 31. 
Fans claimed the source was referring to Schafer and Fike as the former was born on December 31, 1999, while the latter on December 30, 1995. 
Another clue was that the anonymous couple was "cheating with each other on a popular HBO show."
Netizens were convinced the source was talking about the love triangle Fike, Schafer, and Zendaya's character on the popular HBO show, Euphoria. 
According to the post, Fike allegedly flew out a new girl to Colorado for Christmas. 
Dominic Fike's Past Relationship
If the rumors end up being true, it wouldn't be the first time Fike would be caught in a cheating scandal. 
I think dominic fike cheated on diana silvers, it's just a theory bc i was on dom's reddit & someone said she tweeted "should've said no" by taylor swift but quickly deleted it, it's a song abt being cheated on and she was just gone for almost 3 months filming space force szn 2 — dar (@ddd709843211) July 5, 2021
Before the actor was linked to his co-star, he was in a relationship with Bird of Paradise actress Diana Silvers. 
Fike revealed to GQ in April 2021 that he slid into her DMs to send his future girlfriend, his new song called 'Peanut Butter Bagel.'
A confused Silvers messaged back asking him if it was a song promo. 
Fike replied, writing he loved her in Space Force and asked her to come to one of his shows. 
But because of Silver's hectic schedule, they ended up going for a walk, and the rest is history. 
There isn't any information about their relationship, but a few months after the GQ interview, Twitterati claimed Fike was cheating on the actress. 
However, these are just assumptions, as it has not been verified.