Does Kellie Pickler have Kids from Deceased Husband Kyle Jacobs?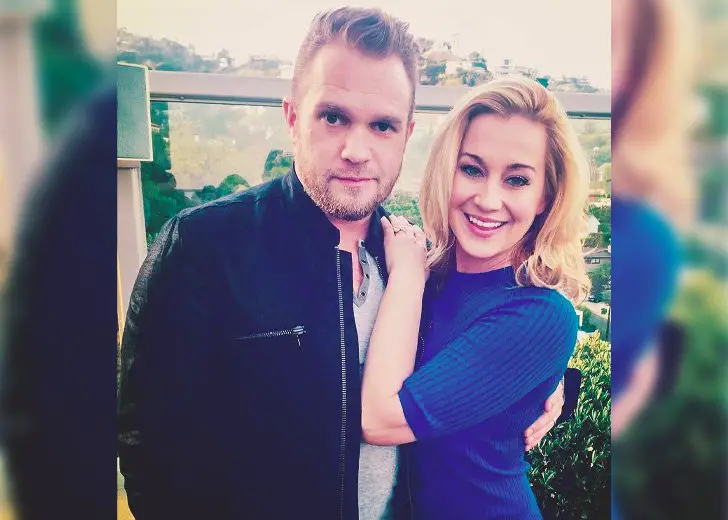 American country singer Kellie Pickler is best known for her debut album, Small Town Girl, her self-titled subsequent second album, and her third album 100 Proof,  including the albums' songs that ranked between Top 10 to Top 30 on the Billboard Hot Country Songs.    
The Albemarle native journey in the singing world started with her audition for the American Idol at age 19. Compared to famous singer Jessica Simpson at the time, Pickler finished the fifth season of the top singing reality show in sixth place and was one of the favorites of the tough judge, Simon Cowell. 
Known for her Southern charm and her quirky personality, Pickler's released her fourth album The Woman I Am in November 2013 with its title track co-written by her songwriter husband Kyle Jacobs, who had come into her life like a sweet breeze, changing her decision of not committing to a marriage, and assisting her to move on from her dark family history—the root cause of her depression.
Read the exclusive article in full to get in-depth coverage of Kellie Pickler's relationship with her deceased husband and fans' queries related to if they had children.
Kellie Pickler's Husband's Death took away her Biggest Support Pillar   
Growing up, Pickler didn't get her parents' love, as her mother, Cynthia Morton, remained an absentee in her life, leaving her at age two in the care of her convicted father. Her grandparents raised her primarily. She shared with People,
When I was 2, my mother left me. I remember going to different prisons with my grandparents to visit my father on weekends. My father did a lot of stupid things, but when I lived with him, I never had to do without. It didn't matter what he had to do, he'd make sure I went to bed with food in my stomach. When he was sober, he was a good person.
Kellie would meet his father only after his release from prison in 2006 and tried to help him, but it went in vain. Her father went to prison again 14 months later in 2007, and adding to that, she felt heavy at the time because she was coping with the breakup with her hockey player boyfriend Jordin Tootoo.
She also had no contact with her mother, who she hasn't forgiven to this day despite her mother explaining in her interviews that she left her so that she could flee an abusive relationship she had with Pickler's father.
Pickler expected an apology or at least recognition from her mother for her childhood woes, which Pickler said her mother never did. 
"I was lonely and depressed. I fell off the face of the earth and buried myself in work. Taylor Swift was one of the only people who knew what I was going through. I was a basket case. I was polished for the cameras, but in my dressing room, I'd crumble," Kellie Pickler told in 2008.
All Pickler wanted was a normal life with proper parental support and a stable love life. A few months after her breakdown, she met with Jacobs, who would write two songs for her new album.
And as Jacobs and Pickler's bond grew stronger, she found rock-solid support in Jacobs' presence and his way of taking care of her. His support worked better than Xanex's in her struggle to fight against depression.
Whenever she would ask for the anti-depressant, he would say, "No, baby, let me be your pill."
However, the two were enjoying a great marital relationship, but unfortunately, the sixteenth-season winner of Dancing with the Stars (2013) lost her husband to death on 17 February 2023. he died because of an apparent suicide by gunshot at the age of 49, according to police reports, which also stated that he had not taken any drugs.
The Metropolitan Nashville Police Department (MNPD) was called via 911 call from their Nashville home (place of incidence) at 1:21 p.m.   
Kellie's Pickler's Wedding & Engagement Story
And now, it has been a little over twelve years since Kellie Pickler and her husband Kyle Jacobs tied the knot eloping to a surprise "small, intimate wedding ceremony on a private island in the Caribbean" after they realized that they hated half of the people in the guest list they had when their wedding planning was almost completed. 
The pair only packed wedding dresses for them before heading to the private island.
"Private Island, Caribbean. Cigar in one hand, Rum in the other. Someone just called me 'Mrs. Jacobs'...sounds nice," the American country music singer tweeted at the time, writing about her intimate wedding ceremony. The groom's wedding ring had their wedding date (1-1-11)  written along with the words, "Put it back on!"
Jacobs had surprisingly proposed to Pickler on 15 June 2010 in Rosemary Beach, California during their vacation.
He organized a romantic dinner and requested Pickler for a walk on the beach to enjoy the sunset. He planned a sweet proposal for her partner, hiding a small wooden box in the sand that treasured a journal dedicated to her, a seashell with her grandmother's name "Faye" embedded on it, and an elegant engagement ring. 
After he got down on his knees to propose, she screamed, "YES!!! and they enjoyed the sunset engaged. The moment also coincidentally became special for them because the day was Pickler's grandmother Feya's birthday—a fact Jacobs didn't realize—but made Pickler felt that they had received her late grandmother's blessing.
Along the way, in their long married and dating life, the husband and wife battled several demons in their relationships and even collaborated in their mutual interest: making music. 
However, their lovely relationship was disrupted when Jacobs died in February 2023, leaving Pickler mourning and trying to understand what had happened wrong. 
Just a day before his death, Jacobs had celebrated the platinum status received by Lee Brice's album Hey World, which he co-produced.  He also provided guitar support and background vocals for it. 
Does Kellie Pickler have Kids?
Despite the long years into the marriage, Pickler and her husband Jacobs, who co-wrote Garth Brook's No.1 hit "More Than a Memory," were yet to have kids and expand their family of two. Because of that, the couple was also often publicly asked about their thoughts on having children.
In one of those instances, speaking with Us Weekly in May 2019 on the set of Hallmark's Home & Family at Universal Studios Hollywood, Pickler implied that the couple wasn't ready to have kids while adding they were happy to be parents to their dogs.
"We have two little small puppies. We're dog parents for now," the American Idol alum said.
A year later, when she sat down with the same publication for another interview, she was asked the same question: whether she was ready to have kids, especially when she wasn't occupied with her work because of the quarantine break.
Responding to that, Pickler said she was more than happy about being "Aunt Kellie" to her nephews than having her own kids. She even jokingly added that she might need "another drink" to think about expanding her family.
And in the 2008's People interview, she had said that she wouldn't rush her marriage but mentioned that she intended to have a family in the future. 
"Is Kyle the one? I don't know! But I'm happier than I've ever been," she said. 
Kellie Pickler got interested in Adopting Kids
In May 2013, during a conversation with Perez Hilton about her marriage, she interestingly said she wanted to adopt rather than give birth.
She first said that if the time was right, she might be open to having children of her own in the future before talking about how she liked the idea of adoption. Then, she shared that she always wanted to adopt regardless of whether she was married or not.
Pickler added she felt it was an amazing opportunity to take someone else "under your wing" and take care of them if one was ready for it.
How Kyle Jacobs Changed Kellie Pickler's Perspective Towards Marriage?
Pickler dated quite a few men before she found her perfect partner in Jacobs. One of them was ice hockey player Jordin Tootoo whom she dated for about a year in 2007.
But when she came across her present husband, it was love at first sight for her. During the 2013's conversation with Hilton, she revealed the couple immediately arranged a date after they first met circa late 2007.
In addition, she admitted she was not someone who believed in marriage and had made up her mind never to get married, but the inclusion of Jacobs in her life changed her perspective. "...you know it always ends in divorce. I just had such a negative outlook on it," she added.
The country music singer also credited her husband for helping her with her career since he also belonged to the country music community.