Chloe Bailey Reveals Dating Status and What She Looks in a Boyfriend
Chlöe Bailey has no qualms about being single.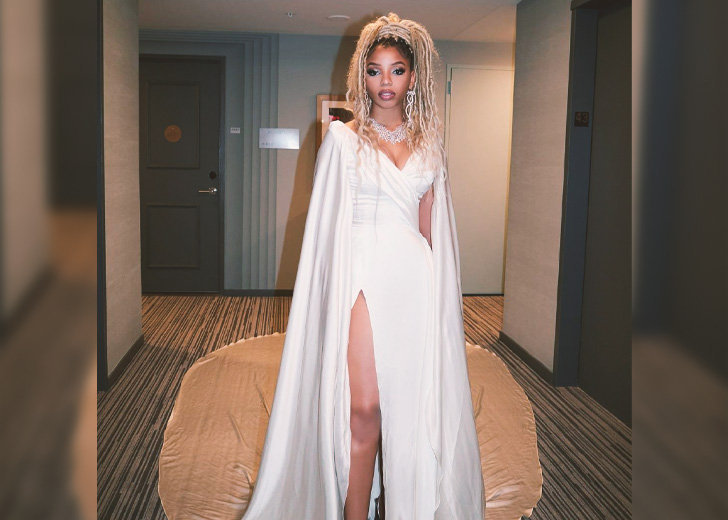 Fresh off her fiery performance of 'Have Mercy' at the 2021 MTV Video Music Awards, Chlöe Bailey is all anyone wants to talk about. 
Introduced by her sister Halle Bailey, Chlöe performed her new song 'Have Mercy,' from her upcoming LP and made her TV debut as a solo artist during the event. 
Naturally, fans are now wondering "who is Chloe Bailey dating? " or if she has or had a boyfriend. 
Chlöe Bailey Comes Clean About Her Love Life
On October 5, Chlöe appeared on The Real Daytime talk show and talked about her love life, and played a fun celebrity quiz. 
The hosts asked her if she was "boo'd up." Unfortunately, Chlöe has not been in any relationship for the past two years. The hosts seemed skeptical, but Chlöe gave an explanation. 
Yah, and I think it's honestly a blessing in disguise because I kind of dive all in when I am in love with someone, and I think that would have taken me from my work. 
The 'Have Mercy' singer then joked that she was going to find someone who could match her level one day. But then she shared that she did not know how that would be possible because she did not read her DMs unless it was related to music. 
The hosts then asked her what she looked for in a partner. Chlöe responded that she wanted a fellow nerd who looked cool on the outside because she was a nerd herself. She added that he had to be sweet and make her laugh. 
She also wanted someone ambitious who could inspire her even more. 
Chlöe Bailey's Ex-es and Rumored Romance
Chlöe might be single now, but that wasn't always the case. 
In 2019, rumors circulated that she was dating Diggy Simmons, who starred as her love interest in Freeform's Grown-ish. The rumors started after she and Simmons were photographed at a Dave & Busters eatery and were allegedly seen kissing. 
Neither of them ever confirmed anything, but the speculation continued for months, especially after her sister hinted on an Instagram Live that the singer had dated a Grown-ish co-star. But by the time the sisters released their second album, Ungodly Hour, break-up rumors surfaced.
In the album, Chlöe had allegedly called out an ex, which most people assumed was Simmons. She was eventually linked to 'What's Poppin' singer Jack Harlow after they were reportedly spotted together in Atlanta.
However, nothing materialized, and she was soon linked to Memphis Depay. The rumors started when the duo had shared photos of each other on Instagram. But Chlöe set the record straight and said that she was single and considered music her man. 
Recently she was linked to 'Way 2 Sexy' rapper, Future. Unfortunately, she had to go on live on Instagram again to clear the rumors. She expressed her confusion at how the rumors started and denied they were a couple.