Diggy Simmons Wants a Girlfriend Who Understands Him
Diggy Simmons opens up about his relationship must-haves, feelings about online dating, and more.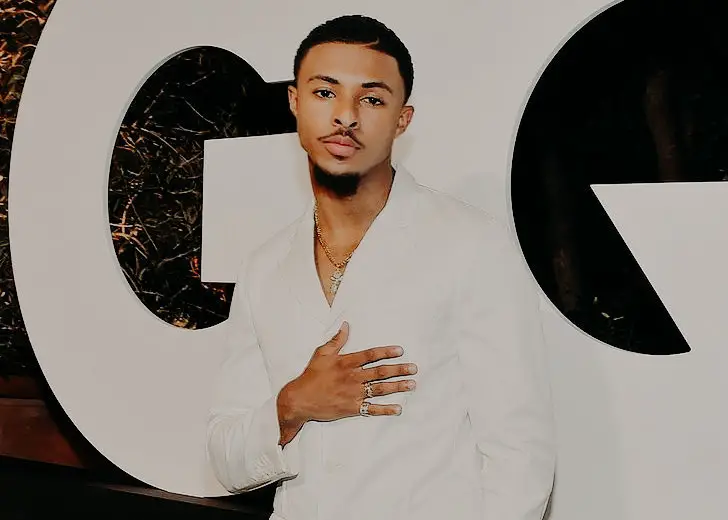 The all-around heartthrob Diggy Simmons is thankful for all the love that his fans have shown him over the years.
At the same time, he has gone on record to admit particular characteristics that he actively looks for in his partner when it comes to having a romantic relationship. 
When You Know, You Know
Just before the 2021 Valentine's Day, the Grown-ish actor opened up to BET for an exclusive interview where he discussed his relationship must-haves, feelings about online dating, and more. 
Early on in the interview, the outlet questioned Simmons about how he would know when he was in love. He responded,
It's just a feeling. To be honest, I think you just know. And it can't be something that looks good on paper. You can't cheat or force [love].
His Ideal Partner
He also revealed that he would like to have a partner with the ability to "navigate through different spaces." In other words, he would like to be with someone who would be comfortable traveling and doing different kinds of work. 
That was very important to the actor because he moved around a lot for work. He wanted to bring his special someone with him and rest assured that they would get along with other people. 
He also added that he wanted his partner to be a kind person. Although the absence of these attributes were not exactly deal-breakers for the Run's House star, they were a big part of what he was looking for in a partner. 
He did briefly discuss his ideal someone back in 2014 on the BET Award Pre-party to a reporter. Back then, he said that he was looking for someone who knew who she was. 
He explained that his wish came from him having his own sense of purpose and what he wanted to achieve in life. So, his girlfriend should be able to understand his life and what he was doing. 
Dating Online? Don't Lose the 'Initial Fire' 
Further along in the interview with BET, Simmons revealed that he had gotten a lot more popular on online dating platforms since the pandemic hit. However, he was still a hard advocator of face-to-face interactions. 
He believed that there shouldn't be too much time lost when you first meet someone because you want to meet them when the "initial fire" is still there. 
"You can't let it be too long before you see them or else the thrill won't be there anymore," he added. "I'm old school, anyway. I love being able to meet someone in person."
His Relationship Status Is a Mystery
That being said, it is still a mystery if Simmons has been in a relationship with someone as of recently. He admitted to being single on FOX Soul, but that was in February 2020. 
Even so, since he admitted to being extremely popular on dating platforms in recent times, the idea of him having a girlfriend wouldn't be completely unwarranted.
Besides, earlier in 2021, the 'My Girl' songster teamed up with dating platform Bumble to dish out some relationship advice to his fans.
During his interaction, he also briefly mentioned that his dad, the legendary Joseph Simmons, was the singular person who gave him the best relationship advice. Naturally so! Joseph has been married to Justine Simmons for 26 years as of this writing.