Charli D'Amelio and Landon Barker's New Tattoos Fuel Dating Rumors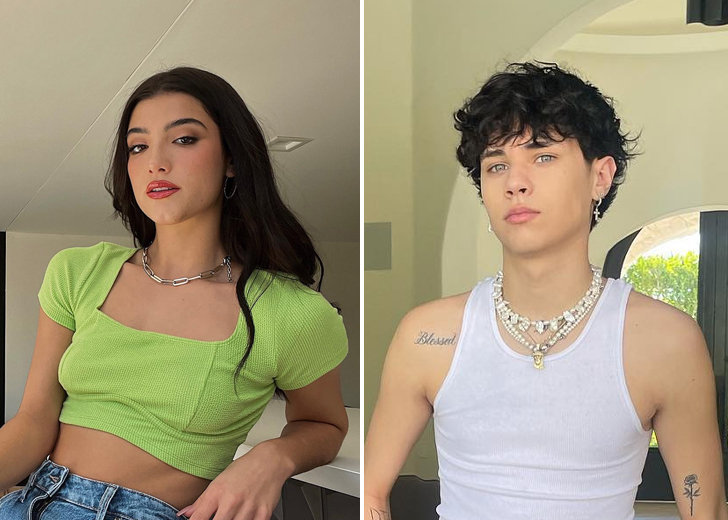 On June 21, 2022, celebrity news outlet The original Tiktokroom uploaded a collage of Charli D'Amelio and Landon Barker's Instagram stories. 
It appears Barker and D'Amelio had uploaded photos of their new tattoos at the same time and tagged the same tattoo artist. 
D'Amelio uploaded a photo of a tiny heart and a little star on her arm to celebrate the launch of her first perfume, Born Dreamer. 
Meanwhile, Barker had gotten a tattoo of thorns around his neck and a bird with the name Cooper written below. He did not mention if he had gotten the tattoo in honor of the late Cooper Noriega. 

Charli D'Amelio and Landon Barker upload photos of their tattoo at the same time, fueling dating rumors. (Source: The original Tiktokroom/Instagram)
Barker and D'Amelio were recently spotted together, giving rise to rumors that they were dating. So fans got a little curious when they uploaded the tattoo photos at the same time.
In the comment section of The original Tiktokroom's post were mixed reactions. 
Some believed they were together and even commented that this could drive a wedge between Barker and Chase Hudson. 
But some claimed it could just be a coincidence explaining that Arbel was the best tattoo artist in Los Angeles, and many influencers went to her. 
People also thought this was just another marketing gimmick from D'Amelio's team. They said since D'Amelio's fame was dying, they needed something to get people talking about her. 
Charli D'Amelio and Landon Barker's Dating Rumor
D'Amelio and Barker's dating rumors started after ShootingStarLA, an Instagram page dedicated to celebrity news, posted a photo of D'Amelio attending Barker's show.
They also posted a second photo of the duo, leaving the event together. 
While it's unclear if the pair is dating or just hanging out as friends, fans began suspecting the duo could have something going on. 
 According to The original Tiktokroom, Hudson seemingly reacted after the photos started spreading on the internet and dating rumors circulated.
"According to @shootingstarsla, #charlidamelio and #landonbarker were seen leaving the show together! However, fans peeped that #chasehudson quickly deleted his picture with Landon after this picture was posted," TikTokRoom's caption read on the photos of ShootingStarLA, which they reshared.   
One user commented, "Yee if chase deleted his pic w Landon there's sum going on."
Another user wrote, "Good for her. If he won't treat her right his best friend will!"
Charli D'Amelio and Chase Hudson's Relationship
The duo made their relationship official on February 14, 2020, but broke up in April 2020 after a year together.
Hudson took to his Instagram story to share the news, writing, "It hurts me to say this, but we've decided that this is what's best for both of us. We are still close friends and I would not change that for anything!" 
Charli also posted the news to her Instagram story, saying she did not want to talk about it as she dealt with it privately. 
On her family's Hulu reality series, The D'Amelio Show, the TikToker opened up about the possibility of rekindling her relationship with Hudson. 
She noted they were so close that they might find each other again someday when the timing was right, although she was unsure how long it would take.
Then, around December 2021, fans began speculating if they had rekindled their romance. The photos of D'Amelio and Hudson kissing and hugging leaked on the internet. But neither of them commented on the matter.