Show or No Shower — All Celebrities on Either Side of the Debate
From Mila Kunis, Dwayne Johnson, to Bethenny Frankel, here's their bathing routine.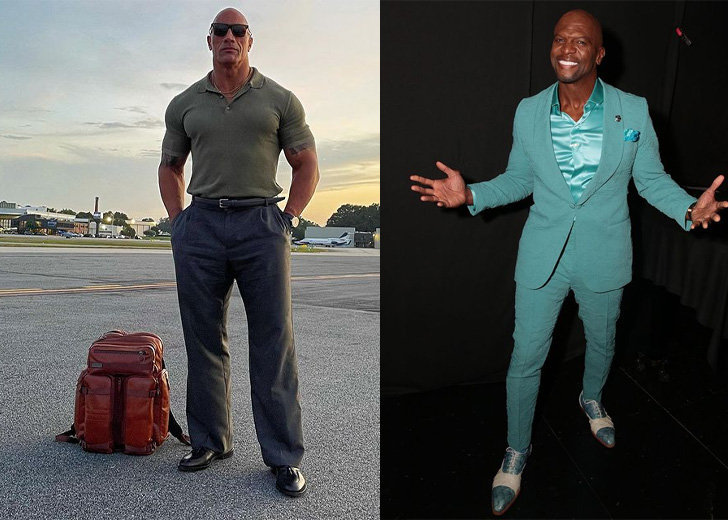 Who could have imagined a simple query regarding one's bathing habit could spur a scandal all over Hollywood. And yet here we are! — listening to celebrities' confessions over their shower routine. 
It all started when Hollywood's 'it' couple, Ashton Kutcher and Mila Kunis, made headlines for not prioritizing bathing.
And since then, Hollywood has apparently divided into supporters and opposers of the ideology, with A-list celebrities weighing in with surprising admissions. Find out where your favorite stars belong in the debate.
Ashton Kutcher and Mila Kunis — No Shower
Kutcher and Kunis aren't big fans of washing their body daily. The lovebirds appeared on Dax Shepard's podcast Armchair Expert on July 19, 2021, and dished on their bathing habits. 
"I don't wash my body with soap every day," Mila remarked. Supporting her life choice, her husband revealed that he also didn't bathe that often, albeit admitting to washing his armpits and crotch daily. 
Shocking most netizens, the Black Swan actress revealed she didn't even bathe her kids every day. "If you can see the dirt on 'em, clean 'em. Otherwise, there's no point," added Kutcher. 
The couple's honest confession sparked an entire conversation on bathing customs all over the film industry.  
Dwayne "The Rock" Johnson — Shower
It turns out that Hollywood heavyweight Dwayne Johnson, aka The Rock, is pretty conscious regarding his body hygiene. 
When a fan asked him if he was one of those "stinky" celebrities, Johnson took to Twitter to clear up the air, saying he was the opposite of a 'not washing themselves' celeb. 
The Jungle Cruise actor elaborated he bathed thrice a day — cold shower in the morning, warm shower after workouts, and hot shower after he got home from work.  
Jake Gyllenhaal — No Shower 
Jake Gyllenhaal has a unique approach to his bath time — and he believes the human body can naturally clean itself. In an interview with Vanity Fair, the Nightcrawler star expressed he was finding bathing less necessary.
Admitting that one should maintain hygiene, Gyllenhaal stated, "I do also think that there's a whole world of not bathing that is also really helpful for skin maintenance."
Bethenny Frankel — Shower 
American television personality Bethenny Frankel couldn't distance herself from the ongoing debate and shared her thoughts through Twitter on August 7, 2021. 
The former Real Housewives of New York City star admitted that bathing daily was a rule in her house. Frankel also shared she instilled hygienic values in her daughter, Bryn Hoppy. 
Bathing is cleansing, relaxing & helps with sleep. I have instilled in her a good hygiene routine since birth.
At the end of her statement, Frankel jokingly questioned if she would be canceled for the approach. 
Dax Shepard & Kristen Bell — No Shower 
Shepard and Kristen Bell added to the uproar, supporting less frequent showers.
In an interview with The View on August 3, 2021, the pair recounted how they used to bathe their kids every single day but got out of the routine as they grew up. 
Adding more fire to the controversy, Bell said she was a "big fan of waiting for the stink." She stated, "Once you catch a whiff, that's biology's way of letting you know you need to clean it up."
Terry Crews — Shower
Unlike celebrities who can manage without regular baths, America's Got Talent host Terry Crews showers daily. He weighed in on the bathing debate while talking to Access Hollywood and revealed that he loved to shower.
I'm Mr. Old Spice, you know what I mean? So I've got to get clean.
Crews even revealed that he had already bathed thrice at the time of the interview. 
Miley Cyrus, Blake Lively, Lili Reinhart — No Shower
Amid the ever-growing conversation on bathing rituals, rumors are rife that pop icons like Miley Cyrus, Blake Lively, Lili Reinhart, and even Taylor Schilling wouldn't mind skipping a shower.
On August 12, 2021, the famous tabloid media, Deux Moi, uploaded a screenshot of a mail from a photographer under the pseudonym Grimy Peeps. The photographer asserted he had worked with multiple celebrities and disclosed they didn't shower regularly.
Among multiple famous personalities, he named the aforementioned stars. However, the celebrities haven't yet responded to the allegation or commented about their bathroom culture.