'Teen Mom' Catelynn Baltierra's Surprising Weight Loss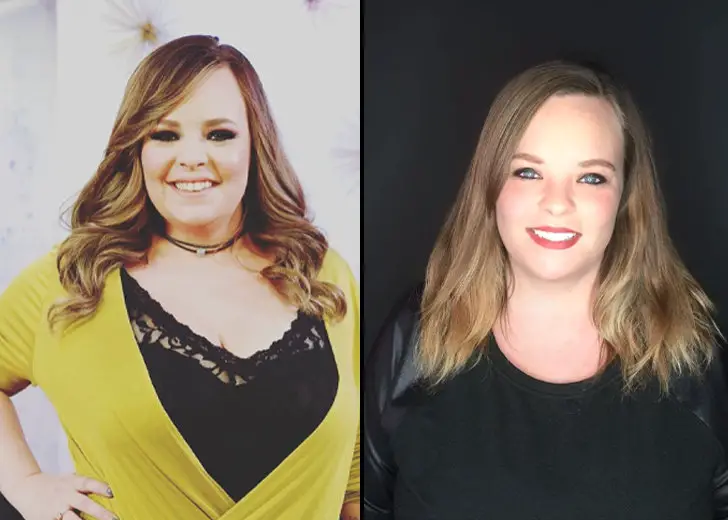 It had only been four months since Teen Mom OG star Catelynn Baltierra had given birth to her fourth child, but fans were impressed when they saw her weight loss.
They began commending at how quickly she had lost her baby weight after seeing a photo of a slim and trim Catelynn. 
On December 24, 2021, her husband and baby daddy, Tyler Baltierra, uploaded a photo of his baby mama.
Catelynn was posing alongside her Teen Mom co-stars Maci Bookout, Amber Portwood, and Cheyenne Floyd while filming the Teen Mom OG Reunion.
Her husband, who had blurred out her co-stars, wrote a sweet caption for his wife. 
Fans began immediately reacting to his sweet post.
One of them commented, "She does look good here! Nice outfit, plus she looks like she lost weight, too. Good for her!"

Catelynn Baltierra's weight loss photo uploaded by her husband (Source: Catelynn Baltierra/Instagram)
Another one wrote, "Cate looks the best she has in years! Go GF!" while a third weighed in, "Cate looks so good. I hope she is happy and healthy."
Meanwhile, the mother of four didn't come out and say anything about her weight loss or her new figure, but whatever she did seemed to work for her.
Catelynn Baltierra and Her Struggle with Weight Loss
Catelynn has often been open about her weight loss struggle on the show. 
As a woman who has given birth four times, her weight has fluctuated. 
In 2015, reports stated that she had gained 60 pounds after giving birth to her second daughter, but through her weight loss regimen, she had already lost one-third of it. 
Catelynn was working towards getting back to her pre-baby weight to fit into her wedding gown before her August wedding.
Her concerned fiancé, Tyler, who was trying to help her, constantly reminded his longtime love about her diet and exercise plans.
But this only added pressure for the struggling mother.
"You're horrible! When you say things, it makes me not want to do it even more," declared the Teen Mom star.  
Meanwhile, Tyler argued that he was just trying to help and did not want to watch her go about it the wrong way and not say anything.  
Unfortunately, he got a lot of backlash from viewers who later clarified he never intended to hurt his lover's feelings or be insensitive and claimed he loved her dearly. 
Catelynn Baltierra Celebrates Husband's Weight Gain
While Catelynn had been on a weight loss journey, her husband was on a different health journey.
On June 10, 2021, Tyler uploaded before and after photos and revealed that he had spent a year gaining muscles and adding pounds in the caption. 
He had gained 34 pounds since starting his journey. 
The father of four said he was still working towards his goal weight but wanted to share the photos of his progress so far.
He also expressed his excitement at the changes the following year would bring. 
Meanwhile, Catelynn showed her love and support for her partner of nearly 15 years in the comments.
"Congratulations baby!! I admire your hard work and dedication," she wrote.