Tyler Baltierra & Catelynn Baltierra Split & Living Separate! Cheating Scandal?
Tyler Baltierra decided to take a...one in the relationship was cheating... the decision of wanting to live separately...Catelynn Baltierra was not ready for the idea...hostility towards the couple's relationship facing ups and down...the serious facts that they've been through...will start marriage counseling...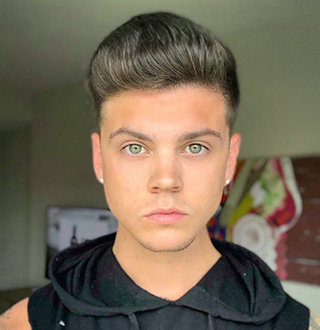 Tyler Baltierra decides to take a break from his 13 years of relationship with Catelynn Baltierra!
It came to the spotlight that Tyler Baltierra, age 26, and his wife from Teen Mom OG agreed to live apart, temporarily in the episode of the MTV reality series, on 26 November 2018.
The couple decided to take the massive step after they discovered that the two were expecting their third kid, a baby girl.
Getting pregnant was very unexpected since we still have a lot of work to do on our relationship. I know Tyler has been frustrated in our marriage for a while and has been seeing a therapist (-said by Catelynn Baltierra in a voiceover)
It wasn't a surprise that Tyler's decision to live separately for a month fell hard on Catelynn because they sometimes showed signs of a flickering relationship. And this spurred some rumors doubting if one in the relationship was cheating. But Tyler was quick to clear any cheating speculations by justifying his actual reason to split for a month which was the longevity of their togetherness.
You May Also Like: Norah O'Donnell, Perfectly Balanced Family With Husband - Height, Sister And More Facts
Taking Right Path: Sneak peek of Tyler Baltierra and Catelynn Baltierra confessing their decision to separate temporarily from fixing their marriage (Video: TeenMomOG's Twitter | 26 November 2018)
Catelynn Baltierra, age 26, was not ready for the idea of living separately as a pregnant mom taking care of their 3-year-old daughter, Nova Reign. It came out as a lot of stress, but the two eventually agreed on the step with hopes to fix their marriage.
Read Also: Mark McEwan, Family Man With Wife! Facts: Net Worth, Restaurants, Bio And More
Some fans even show hostility towards the couple's relationship facing ups and down but it's not exactly fair since they have been riding their romantic rollercoaster since 2005. And in 13 years, Tyler and Catelynn placed their first child for adoption, experienced a long-awaited wedding, suffered a miscarriage, and dealt with their mental issues.
Let's not forget to mention that Tyler supported his dad and sister through their addiction issues. These are the serious facts that they've been through, so it's only feasible for the two to come across some thorns in their paths.
During the time they had hosted a gender reveal party with their friends and family, Catelynn told MTV producer Kiki about the fact that she had asked Tyler if he was possibly cheating, as she said,
I even texted him and asked him, 'Is there somebody else?' He said, 'What the f****? Do you think that I would cheat on you?' In my heart of hearts, no, but it was just so blindsiding. Like, what the f**** is going on?
While the split is going to be hard, Catelynn confessed that she would have more time to focus on her daughter. The two reassured their family that they weren't permanently separating and Tyler explained that it would be like a 'fresh start' for the pair when he talked to his mom.
You Don't Want To Miss: Dr. Disrespect Age 36, Twitch Star Caught Cheating? Real Name To Wife Info
The mom and dad of 3-year-old Nova will start marriage counseling and have reassured the viewers that it is going to be normal. They'll go on date nights and eat dinner together with their daughter while preparing for their third baby.