Meet Cassie Ventura's Husband Celebrity Trainer Alex Fine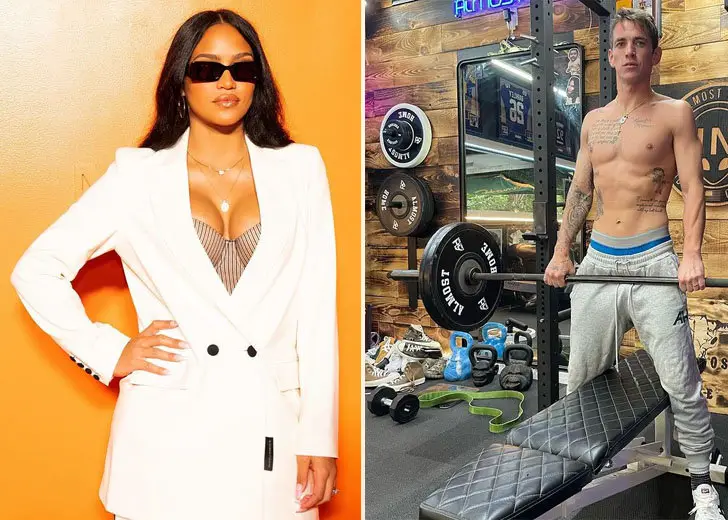 Cassie Ventura, who goes just by her first name Cassie, got married in 2019 after breaking up with her long-term boyfriend.
She was in a relationship with Sean Combs, aka Puff Daddy/Diddy, from 2007 to 2018. 
After 11 years of relationship, the two parted ways. Soon after, Cassie started a relationship with fitness trainer Alex Fine, who later became her husband. 
Here is everything you need to know about Fine, their relationship, and their kids.  
Who Is Cassie's Husband?
Casse's husband, Fine, is a jack of all trades. He mainly works as a celebrity fitness trainer, but he is also a bull rider.
Being a celebrity trainer has had its perks since it boosted Fine on social media. As a result, he is also an influencer and is friends with a lot of celebrities.
He once served as a landlord to Charles Melton, who lived with Fine to train. Similarly, Fine has also trained many other Riverdale stars. 
He is also a nutritionist, spiritual advisor, and therapist to his clients to maintain their physical health. There is a fun story about how Fine worked his way up to be a celebrity trainer. 
He shared his story with Vanity Fair in December 2018. The trainer was watching American Sniper with his roommates when he started wondering who trained Bradley Cooper for the role. 
He started digging into it and found out that C.T. Fletcher was the mastermind behind Cooper's heavy build in the movie. During that time, Fine had three weeks left before graduating from college. 
He contacted Fletcher, who responded. As a result, Fine traveled to L.A. for a job interview after borrowing $300 from his roommate. He had a week and a half to graduate from college during this time.
He gave the interview, and Fletcher was impressed by his record. While Fine did not have any certification or degree in physical training, he was a college football player. 
Fletcher hired him and asked him to work from the next day itself. Fine was happy, but he needed to convince his mother. 
She had many concerns regarding the job — he had a free education because of football and only had a few days to graduate. However, Fine knew he wanted to be a trainer. 
He convinced his mother, telling her he got the degree to get a job like this. His mother eventually agreed, but there was a catch — he had three months to prove himself. 
He worked with Fletcher for one summer and later started his own BootCamp. Slowly, he grew his clients and became a household name for different celebrities. 
Now, he has built a successful empire with a slew of clients, including but not limited to Mark Consuelos, Melton, Jennifer Aniston, Anthony Barr, Reggie Bush, Anwar Hadid, Odell Beckham Jr., and Marshawn Lynch.
Cassie and Alex Fine's Relationship
Cassie and Fine are happily married with two kids. The pair met in a gym in 2018 and started dating soon after. A few months later, Cassie was pregnant with their first daughter. 
She told Vogue that the pair debated when to get married — before or after the baby's delivery. However, they eventually married before the baby was born.  
Fine planned an elaborate and luxurious ceremony to propose to his wife, which impressed Cassie. She told the magazine that she felt special that night and would never forget her husband's effort. 
The same month, on August 28, 2019, the duo got married in an intimate ceremony with just a few friends and family. They welcomed their first daughter, Frankie Stone Fine, on December 6, 2019. 
A year later, the couple announced they were expecting another baby girl. They welcomed their second child, Sunny Cinco Fine, on March 22, 2021.