Charles Melton Back Together with Girlfriend Camila Mendes after a Year's Break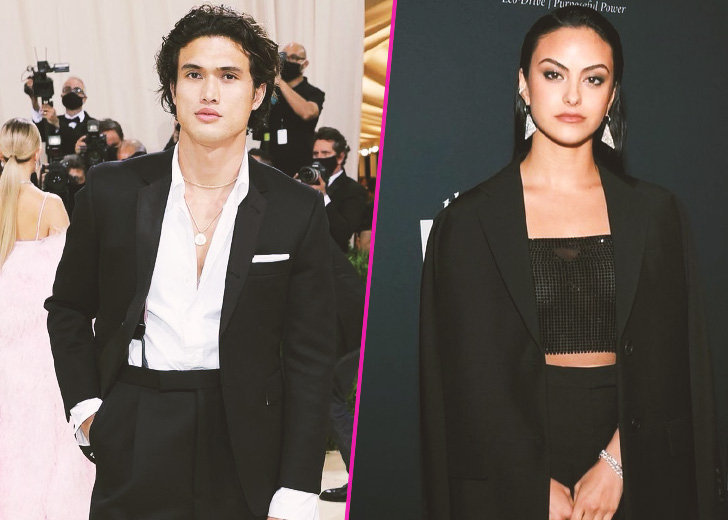 The answer to the question "who is Charles Melton dating?" is quite simple. He is dating Camila Mendes. The Riverdale co-stars started dating after growing close to one another during their time on the set of the teen drama.
During their time together, the pair frequently took to Instagram to express their love and support for each other.
Unfortunately, not long after celebrating their first anniversary, Mendes and Melton headed their separate ways. However, the two got together once again after reconnecting on the set of Riverdale once again.
Here's a look at Mendes and Melton's relationship history.
Mendes And Melton Confirm Dating Rumors
Having spent so much time together on the set of Riverdale, Mendes and Melton sparked relationship rumors in September 2018. A month later, Mendes confirmed she and Melton were dating with an Instagram post on October 7, 2018.
The post featured a now-deleted picture of the two with the caption "Mine" written on it.
Mendes Responds To Fan Comparing Charles Melton With Her Ex-Boyfriend
Prior to getting together with Melton, Mendes had been in a relationship with Victor Houston. So when she began dating Melton, there were still many people commenting on her relationship.
On November 7, 2018, she responded to a fan who had taken to Instagram to post a picture of her with Houston side by side with a picture of her with Melton and write she looked happier with Houston.
Mendes explained she had never been happier and comparing her two relationships was stupid, especially since people did not know everything about them.
I feel silly responding to this but I also feel the impulse to tell you that you're wrong. I'm happier than I've ever been in my life. It's absurd to me that you call yourself a fan, yet your entire page is dedicated to disrespecting my relationship and my boyfriend, both of which you clearly know nothing about.
Charles Melton Shows Off A Tattoo Of His Girlfriend's Name
Near Valentine's day of 2019, Melton had showed off a chest tattoo that read "CAMI" which got many people wondering if it was real. 
A few days later, Mendes took to Instagram to reveal that it wasn't real. She posted a picture of Melton's tattoo and wrote, "it's fake you guys…"

1 Year Together
In August 2019, Mendes and Melton celebrated their first year together. She marked the special day by sharing a photo of herself and Melton sharing a kiss on a boat with the sun setting behind them.
The actress caption the picture, "365 days. I love you."
Charles Melton And Camila Mendes Split
In December 2019, news came that Mendes and Melton had called it quits, shortly after celebrating their one-year anniversary. The reason for their split was said to be their busy schedule and their relationship, which had "escalated very quickly."
Charles Melton And Camila Mendes Get Back Together
Melton and Mendes re-sparked relationship rumors on June 7, 2021, after they were spotted going out to dinner with fellow Riverdale cast member Cole Sprouse, his twin brother Dylan Sprouse, and model Stella Maxwell.
Just days after the rumors started, E! News reported that the two were back together.