Bryce Hall Blasts Blake Gray in Viral Video: See Noah Beck's Reaction
The long-awaited coming together of Sway House seems uncertain given Bryce Hall and Blake Gray's ongoing feud.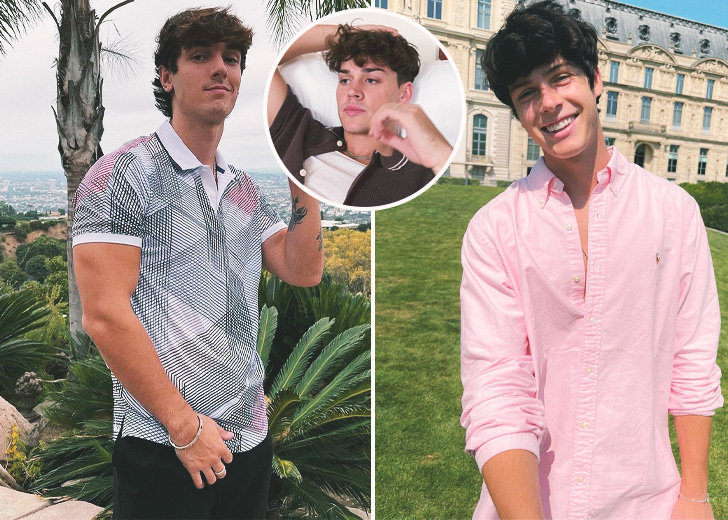 TikToker Bryce Hall was recently spotted calling Blake Gray's name, suggesting the ongoing Sway House drama never to reach a meaningful conclusion. 
In a video posted by Hype House co-creator Thomas Petrou, Hall is seen saying, "Blake won't look me in the eyes." He further questioned why his former Sway House partner was scared to even "look at me." 
The Incident Involving Bryce Hall and Blake Gray
Toward the end of September, Hall told The Hollywood Fix that he had followed Gray on Instagram, and at the time, revealed that he was yet to receive a follow back. 
The two eventually followed each other on the social media platform. However, their online reunion did not last long as Gray and his girlfriend recently, Amelie Zilber, unfollowed Hall on Instagram. 
Following the recent event, Hall went on a Twitter rant expressing his displeasure regarding the matter. 
In one of his tweets, Hall called the current generation's way of determining a friendship/relationship by following or unfollowing someone to be funny. 
In his follow-up tweet, the popular TikToker proclaimed to be a "bad guy" once again as he has nothing to hide and will never accept to live by the "clean fame."
He further states how his habit of not lying or fabricating his situations has been proven over time.
YouTuber/TikToker Hall concluded his tirade with a third tweet. In a shot writing, Hall accepted to love being trapped on the internet "highschool  universe." 
The Future of Sway House
Fans and supporters of Sway House were put on edge when Hall posted a series of images on Instagram with the caption "Sway might be back" during the last week of September.
In the Instagram post, content creator Hall was seen spending a day out with former Sway House members and creators Gray and Johnson. This get-together strongly hinted the fight between Hall and Gray to have come to an end.  
The Sway boys were seen engaged in outdoor recreational activities showcasing strong bonding.
Things were looking greener for the Sway community when a story-based animated game titled Sway Stories was released by former house members Josh Richards and Griffin Johnson just a couple of weeks ago. 
Earlier in February, the house of content creators was dissolved following the beef between Hall and the duo of Gray and Beck.
However, due to the ongoing feud between Hall and Gray, the supposed reunion seems to be a far cry despite the previous promising signs of the coming together.
Noah Beck Promotes His Girlfriend's New Song  
In a video posted by an Instagram fan account, @tiktokinsiders, everything seems normal at first glance.

Noah Beck promoting his girlfriend Dixie D'Amelio's new song (Source: Instagram)
However, upon close inspection in the comment section, one can find former Sway member Beck promoting his girlfriend Dixie D'Amelio's new song titled 'Real Things.' D'Amelio and Beck have been in a relationship since September 2020. 
The fan account posted a snippet of Hall ranting about his former Sway co-content creator Gray. The short clip was taken from Petrou's YouTube vlog.