Brittany Renner Spotted with Apparent Baby Bump on Date with YG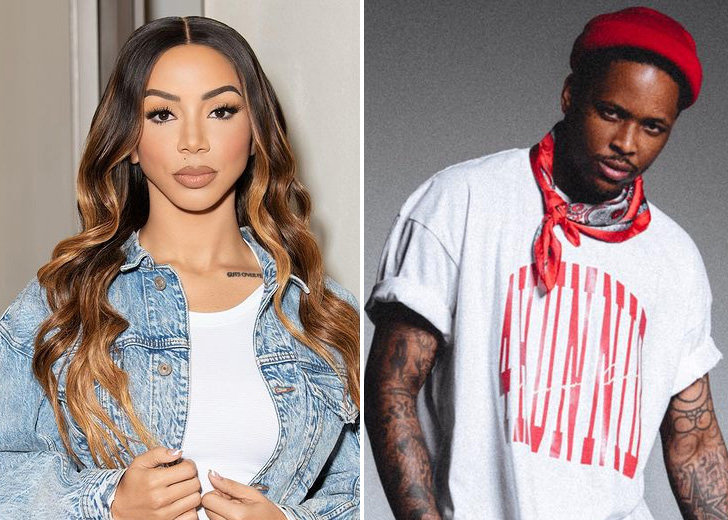 Is Brittany Renner back on the dating scene?
That was the question in everyone's mind after her April 2022 spotting with California rapper YG. They were seen hanging out on what looked to be a date.
Ice cream was noticed at the scene, as was their hand-holding. But fans also noticed something else, something they think could be a baby bump on Renner.
Brittany Renner's Baby Bump Seen While Out with YG
On April 21, 2022, The Shade Room exclusively reported Renner and YG were spotted getting ice cream together.
While the spotting would have been enough to start dating rumors, there was a bit more to the outing.
The two were a bit overdressed for a simple ice-cream outing. But the outfits make a lot more sense if we think they were out on a date, and getting ice cream was just something they did on the side.
Renner wore a black, form-fitting outfit. Her sides were covered by a transparent, patterned material, and she did her hair in a neat ponytail.
YG looked equally sharp in his beige-colored sweater and trousers.
TSR got their hands on a couple of pictures. In one of them, they were walking over to the place where they would later sit. They had their desserts, and Renner had her left hand around his right.
After they sat down, at least in the pictures, they looked really into a conversation.
Here, the fans noticed that there was a bump on her stomach. And thus began the gossips about her apparently pregnant belly.

Brittany Renner sparks dating and pregnancy rumors after sporting a baby bump while out with YG. (Photo: Onsite/TSR/Instagram)
"She pregnant????" was the first comment that appeared on TSR's Instagram post about the date. "Y'all see date I see baby bump," someone else said on a post from Onsite.
"She looks very much so pregnant on all 3pics," said a third user.
Could Brittany Renner and YG Have Staged Their Date?
In other comments, people were also making fun of how they looked on the date.
"Why he looking at her like that," asked one, while someone else joked, saying, "He just trynna figure out why she the way she is."
A considerable number of users also speculated that Renner and the rapper could have staged their date or that it wasn't a date at all.
Many were of the opinion that the pictures could be from a music video shoot.
"Looks like a music video but……," someone commented on TSR's post. "Must be a music video. Lookin too staged," another chimed in with their two cents.
Amidst all these comments, people also could not stop bringing their past relationships up.
YG's past relationship with Kehlani was being talked about, and Renner and PJ Washington's time together was also discussed.
Renner and PJ Washington were involved in a big drama in 2021. The former couple, who first confirmed they were dating in June 2020, announced they were expecting a baby a month later but also broke up around the same time.
They welcomed their baby in May 2021, but things were to go downhill after their break up.
They got into a public feud and a custody battle, with Renner calling Washington a bad partner, among other things.
She was also accused of predatory behavior towards Washington and trapping the NBA star for money and child support payments.