Blaire White Slams Demi Lovato for Platforming 'Trans Predator' Alok Vaid-Menon
Blair White said Demi Lovato was intentionally ignoring allegations against Alok Vaid-Menon.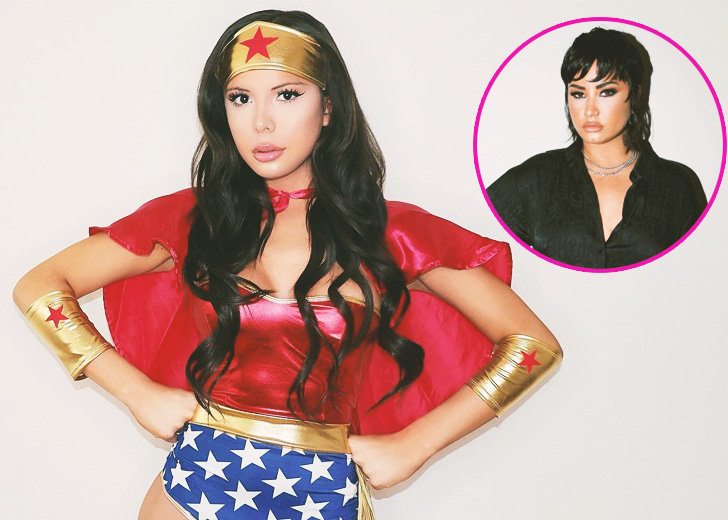 Blaire White is a controversial YouTuber who is often criticized for her political stances and opinions.
However, the backlash has not stopped White from speaking her mind out on her YouTube channel. 
White was born as a man and had gender dysphoria since she was a child because she didn't feel comfortable in her flesh.
She told her family and friends she was transgender when she was 20 years old, and she began feminizing hormone therapy in 2015.
Being a trans woman, she speaks strongly about the transgender and the LGBQ+ community.
As a result, she does not hesitate to call out and expose people who speak against the community, intentionally or unintentionally. 
Recently, she dragged Demi Lovato and exposed them for supporting Alok Vaid-Menon and giving them a platform. 
Demi Lovato's Coming Out Story
Lovato is an actress and singer who gained recognition as the protagonist of a television movie, Camp Rock, in 2008.
Since then, they have been involved in various Disney projects while advancing their musical career. 
However, life has not always been easy for Lovato as they have found herself in many controversies. From drug abuse to rape, they had to struggle a lot. 
The singer also used to be confused with their gender orientation. They came out as queer in a social media post on July 2020 while mourning the death of their Glee co-star Naya Rivera.
Lovato came out as pansexual and sexually flexible in March 2021. On May 19, 2021, the singer came out as non-binary on their podcast 4D with Demi Lovato.
They confirmed they were changing pronouns to they/them.
In the first episode, Lovato sat down with gender non-conforming author and artist Alok Vaid-Menon aka Alok, to discuss pronouns and their importance. 
While many people were happy for Lovato, they did not appreciate that the singer invited Alok to discuss it. One such person was White. 
Blaire White Dragged Demi Lovato
On October 5, 2021, White uploaded a video dragging Lovato for being a clout chaser and giving a platform to Alok.
Alok is an American writer, media personality, activist, and performance artist who advocates for the trans community. 
While they are lauded for their activism, they have come under fire multiple times for showing predatory nature towards kids.
They were exposed for calling kids "kinky" and being a trans predator. 
Old Facebook posts of Alok resurfaced in early 2021, where they were a pedophile and possibly condoning sexual abuse against young children. 
The quote looks to be genuine, as it comes from Alok's 'Darkmatter' Facebook page. In the post, they how there are "no perfect victims" when it comes to small girls and trans people using the same toilet. 
The post made it seem like Alok was a pedophile and predator since ins3tead of implying that trans people will not abuse kids, they said that the abuse would be "Little girls discovering their sexuality." 
White pointed out that just because someone is transgender or non-binary does not mean they should get a pass for their actions. Therefore, according to the YouTuber, Alok should be held accountable and not be excused for supporting Lovato and the trans community.
White also added that it was impossible for Lovato not to know about Alok's accusations.
This is because any collaboration Alok and Lovato do, the comment section is filled with people pointing out Alok's allegations.
The YouTuber further implied that Lovato and their team were intentionally ignoring Alok's allegations.