Demi Lovato Puts up Educational Post Regarding 'They/Them' Pronouns
Demi Lovato states there is no hard and fast rule for a person to not refer to another person as 'they/them.'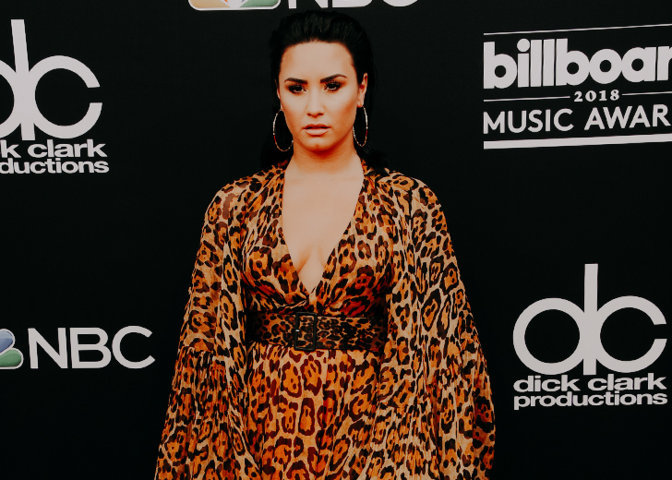 Demi Lovato, who had identified as non-binary earlier in May 2021, has come up with an educational post regarding the "they/them" pronouns.
On July 21, they grammed a series of pictures, with the first picture in the slide stating there was no hard and fast rule for a person to not refer to another person as they or them.
"'there's nothing new about they + them' - @mattxiv…'for example: I would like them a lot more if they started respecting ppl's pronouns,'" the post's caption read, as they reposted a post from Matt Bernstein's feed.
The second picture clarified that the singular "they/them" is a gender-neutral pronoun a person uses while referring to someone whose gender we don't know or someone who has already specified that they use "they/them" pronouns for themselves.
Further insight to the post depicted recent instances when conservatives claimed the use of the singular "they" pronoun as grammatically incorrect.
The picture featured a screenshot of Candace Owens' tweet, who had said it was just poor grammar to announce one person's pronouns to be 'they' and 'them.'
Owens, a conservative author, and talk show host, also stated that she didn't care about reasons and requested to "please stop trying to make low academic achievement a thing."
But Lovato's post insisted that the singular they/them was grammatically correct. To show that, the post had an example in the offer that read,
If you're talking about someone whose gender you do not know, you use the singular they...'the journalist wants their name to remain hidden'...'the patient said they weren't feeling well'...'someone left their wallet at the restaurant...you've been using the singular 'they' for your whole life. what's newer is using it because a queer person is asking you to.
Not just that, the post also turned a page from history and stated that the singular they pronoun has been used in English since the 14th century.
For instance, Emily Dickinson, one of the famous poets in history, used it in 1881. Former US President George W. Bush used it in a 1991 state of the union.
The latter slide saw Bernstein, an Instagram star and queer activist, address Owens's tweet. They iterated that all languages were made up; languages change over time to meet the needs of people.
"Do you go around speaking in Shakespearean English? I didn't think so," they questioned.
This particular instance isn't the first time Lovato has put out their voice to educate people about the LGBTIQ+ community and "they/them" pronouns.
A quick scroll through their Instagram shows their feed is filled up with strong messages, statements, and detailed knowledge regarding the LGBTQ+ community.
Lovato is currently filming for their upcoming pilot Hungry. A series that follows a group of friends who belong to a 'food-issues' group.
The actress shared on July 20 Instagram post that they experienced a little anxiety before filming their first onscreen intimate scene for the series. But they were comforted by other cast and crew members.
The project also stars Valerie Bertinelli, Anna Akana, Alex Brightman, and Ashley D. Kelley.