Valerie Bertinelli Regrets Getting into Diet Culture after Fans Note She Needed 'Weight Loss'
"So here I am today receiving the karma of my actions," Valerie Bertinelli says.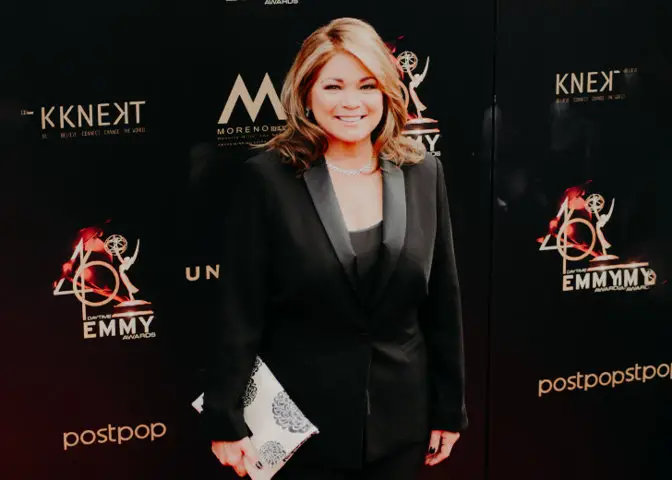 Actress and television personality Valerie Bertinelli has been a household name since appearing as a child actress on the sitcom One Day at a Time. She continued as an actress in the drama series Touched by an Angel and sitcom Hot in Cleveland.
In recent years, the multiple Golden Globe Awards-winning TV star has shined as a cooking show host. She has been hosting Food Network's cooking shows Valerie's Home Cooking and Kids Baking Championship since 2015.
While sharing her recipes for tasty and healthy foods, Bertinelli, who once weighed 172 pounds, was also employed as the pitchwoman for Jenny Craig, an American weight loss, weight management, and nutrition company.
As its spokesperson, she delved into diet culture and hyped it for other women.
Regrets 'Buying Into the Diet Industry'
On July 9, 2021, Bertinelli took to Instagram to address all the body-shaming comments she had received online.
She posted a video where she got emotional and started crying while highlighting a commenter on her previous post who had said she needed to go through weight loss.
"Aren't we tired of body shaming women yet?" she wrote in the caption. "We all could use a little more kindness and patience and grace because we just never know what someone else is going through."
And while the TV star asked people to be more kind towards others, especially regarding body weight, some took to Twitter to criticize her for speaking out about body shaming issues after promoting Jenny Craig all her career.
The following day, a Twitterati mentioned the cooking show host on Twitter and wrote,
Sorry Valerie Bertinelli @Wolfiesmom - you spent decades telling the rest of us to get thin, shilled weight loss shakes, potions & snake oil & NOW wanna be a body shaming warrior? You don't get to be a victim when you helped create the problem. Grow up if you can't take the heat
Bertinelli, age 61, also quickly responded to the tweet, saying that she was not playing a victim. Instead, she made the video to get her feelings out of her system and not squeeze them down inside her.
She further admitted she regrets "buying into the diet industry," which made her a part of the problem herself. She also said she was receiving the karma of her actions at present.
Yes, I spent 6 years 'shilling' for Jenny Craig. (your math's a little off) I have been buying into the diet industry my whole life and then I became part of the problem, so here I am today receiving the karma of my actions. — Valerie Bertinelli (@Wolfiesmom) July 10, 2021
"You can go ahead and judge all you like. However, I can warn you, from experience, that kind of karma doesn't feel great either," she added in the thread.
Bertinelli Currently Filming For 'Hungry'
Despite her "emotional" video on body-shaming comments, the Valerie's Home Cooking host isn't crying over the matter any longer.
Bertinelli was recently cast in a lead role opposite Demi Lovato in NBC's single-camera comedy pilot Hungry. The two actresses will be seen as mother and daughter. Bertinelli will be playing the mother, Lisa, who owns a restaurant.
They were also spotted filming together in Los Angeles for the first time in mid-July 2021.
According to Deadline, the show, written and executive produced by Suzanne Martin, follows a group of friends who belong to a food-issues group. They help one another while they look for love, success, and good food.