Alexander Skarsgard Secretly Dating Girlfriend Tuva Novotny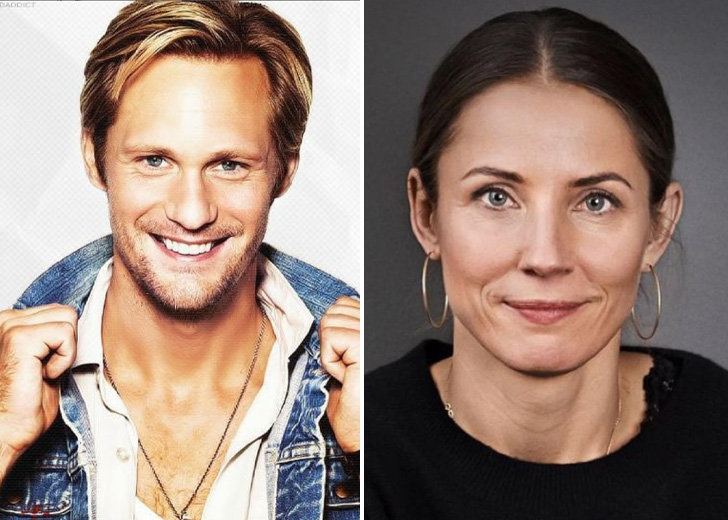 Alexander Skarsgard and Tuva Novotny have long been speculated to be dating. However, the actor has always preferred to keep his private life private.
Now, after years of a cat-and-mouse game between them and the internet, their relationship has been confirmed by third parties. And Deux Moi picked up on the confirmation, as they usually do.
Despite the revelation, Skarsgard still wants to keep the relationship on the down-low.
Alexander Skarsgard Confirmed to Be Dating Tuva Novotny
Sanna Lundell became the first person to confirm Skarsgard and Novotny's dating life. In February 2022, while on a Swedish podcast, Inte din morsa, the host confirmed that the pair were boyfriend and girlfriend.
"It's still so funny that we have talked about it several times that they are a couple," she said during the episode (as reported by Elle Sweden). "They have been for several years and they are like two of our biggest international celebrities and no one writes about it."
Lundell speculated that even though neither of them had denied the relationship, the Swedish media had decided not to talk about it.
The other host, Ann Söderlund, too said she had talked to Novotny personally about her romance with Skarsgard. According to Söderlund, Novotny said, "I do not know why it is so, we have been together for many years. We have not denied it and it is not something we are trying to keep secret."
This became a huge thing, especially because Deux Moi picked up on this.
On April 19, 2022, an anonymous question appeared on the account's IG stories. The person was asking whether Skarsgard had broken up with Novotny.
There was also a mention of their potential break up.

Screenshot from Deux Moi discussing whether Alexander Skarsgard and Tuva Novotny are actually dating. (Photo: Deux Moi/Instagram)
The anonymous account owner later posted a screenshot of a conversation they had with someone else, where they referred Moi to the above-mentioned podcast episode.
Also, the person was sure Lundell and Söderlund were not lying because they had nothing to gain from the matter.
Alexander Skarsgard Does Not Admit Dating Tuva Novotny
Even though Novotny said, she and Skarsgard were not trying to keep the relationship a secret, they also have not yet outright admitted that they are dating. He, especially, dodges questions about his girlfriend.
During his interview with the Swedish newspaper Aftonbladet, published on April 17, 2022, he paid no special attention to the query regarding his love life.
When asked why he remained silent on the matter because he was usually outspoken about things, Skarsgard replied, "I try to concentrate on talking about the professional and keeping the private private."
Then, the interviewer counter-questioned cheekily, asking, "So you do not deny, then?"
The actor just laughed at the question and swiftly moved the topic to soccer.
Skarsgard and Novotny also rarely go out to events, and they have never appeared on a red carpet event together. Everything about them hints to them deliberately not making a big deal out of their dating life in public.
Before Novotny, The Northman actor was linked with Amanda Seyfried, Evan Rachel Wood, Kate Bosworth, and Alexa Chung, whom he dated on and off for over two years.