Inside Aja Metoyer's Relationship With Her Kids And Ex-Partners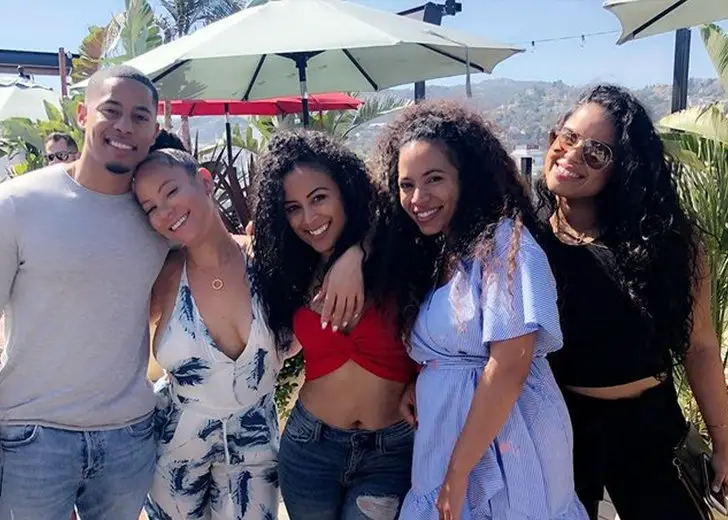 Aja Metoyer, who rose to fame with VH1's reality series Basketball Wives in 2017, is a mother to three kids.
She shares her children with her two ex-partners. She welcomed her first two children, Aniya Wayans and Amara Wayans, with her ex-husband, Damon Wayans Jr.
She then divorced Wayans Jr and had a brief relationship with former professional basketball player Dwyane Wade.
With him, she welcomed a son, Xavier Zechariah Wade, on November 10, 2013.
Sometime later, she also broke up with Wade — and now, she is raising all three kids on her own as a single mother.
Aja Metoyer Co-Parenting Son with Dwyane Wade
Metoyer and Wade's relationship first came into the spotlight in 2013 when it was revealed that the reality TV star had given birth to the basketballer's son, Xavier.
The revelation was quite controversial at a point, as the little one was born six weeks before Wade got engaged to his wife and actress Gabrielle Union.
But the pair in question, Metoyer and Wade, handled the situation with maturity. 
Wade first admitted that he was the baby's father, while his wife Union also reportedly suggested that she was okay with what happened.
He explained Xavier was conceived when he came across Metoyer — and he and Union had a break in their relationship.
The basketball player's ex also agreed to raise their son as co-parents and allowed Wade to move forward with his marriage to Union.
However, since Xavier lived mostly with his mother after the split, Wade feels the need to have a strong relationship with his son.
He stated the fact in his photographic memoir Dwyane that was released in November 2021.
He wrote about the occasional challenge that comes from parenting his 8-year-old son. "Xavier doesn't live with me, so we don't get to see each other every day like I do with my other kids."
"It makes things challenging at times, but it's my job to make sure he never has to carry that weight," he added.
Besides Xavier, the former Miami Heat player shares two children, Zaya Wade and Zaire Wade, with his ex-wife Siohvaughn Funches and a daughter, Kaavia James Union Wade, with his now-wife Union.
He is also raising his nephew Dahveon Morris, the son of Wade's sister Deanna.
Aja Metoyer, Two Kids, and Damon Wayans Jr. Relationship
While Metoyer's relationship with her son's father, Wade, seems to be in a good place as co-parents, her relationship with the father of her first two kids does not seem to be smooth.

Aja Metoyer with her two kids whom she shares with her ex-husband Damon Wayans Jr. (Photo: Instagram)
It seems so because the reality TV star received the primary physical custody of her and the actor's daughters while both parents had joint legal custody.
However, Wayans Jr. took her to court, seeking to have primary custody of their two daughters in September 2018, stating he believed she was not taking their education seriously.
According to the suit filed at a Los Angeles court, he explained his girls were habitually absent or tardy to class.
He also said they were listed multiple issues affecting their education and home life negatively.
Despite the claims, Metoyer reportedly still has the primary custody of her two kids with Wayans Jr.
She often posts pictures with them and her son Xavier on her social media, showing her love for the little ones.