Denise Richards Joining Onlyfans Only Makes Aaron Phypers Love Her More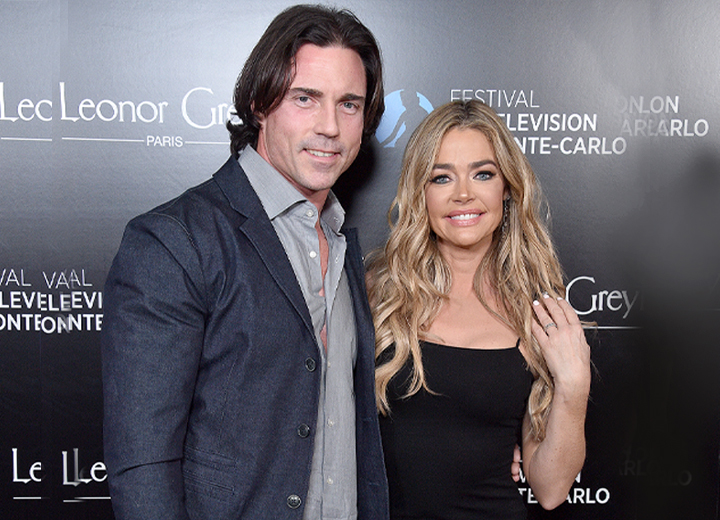 Aaron Phypers's wife Denise Richards announced she would be joining the adult content platform, OnlyFans, in June 2022. After her announcement, everyone was waiting on how Phypers would react to her decision.
This was because Richards' ex husband, Charlie Sheen, was not supportive of another family member's decision to do the same. Phypers, however, is fully behind his wife's choice.
In fact, reports suggest he has never been more attracted to her than now.
Aaron Phypers' Reaction to Denise Richards Joining OnlyFans
A week after Richards announced her start on the platform, an insider source close to the couple revealed how positive Phypers' attitude had been towards his wife's revelation.
"Aaron is right behind Denise and loves how confident and empowered she's being," the source told Us Weekly. According to them, Phypers and Richards have a "healthy and secure relationship," and "a white-hot love life."
"He's more attracted to her than he's ever been," the source further added.
But it always seemed like he would be okay with Richards's decision to do something like this. After all, he made no objections when Richards's daughter, Sami, joined OnlyFans on June 13, 2022.
Even though Phypers never said a word about Sami, one can assume she supported his stepdaughter. Richards, however, responded to negative comments her daughter was receiving on social media.
"I wish I had the confidence my 18 yr old daughter has," she wrote on her Instagram post on June 17, 2022. Further, she confessed she was in no position to judge Sami as she, too, had done PlayBoy and Wild Things in the past.
Richards then blasted the culture for differentiating between posting pictures on Instagram and on OnlyFans just because the latter paid money. "Perhaps I should open my own account..," she hit back at the end of her writing.

Aaron Phypers with his wife, Denise Richards. (Photo: Instagram)
On June 23, she announced her own arrival on the platform. As of now, she has the link to her OnlyFans on her Instagram bio.
Did Charlie Sheen Change His Mind about Daughter Joining OnlyFans?
When the news about Sami joining OnlyFans made the rounds, Sheen, Richards' ex husband, wasn't supportive of his daughter's decision.
On June 13, 2022, Sheen, through an exclusive statement to Us Weekly, revealed he did not approve of Sami's choices. "I do not condone this but since I'm unable to prevent it, I urged her to keep it classy, creative and not sacrifice her integrity," he said in the statement.
After this, Richards, too, spoke to Us Weekly and said it wasn't her right to control her daughter as she was 18. The only thing she could do was guide her as she was living under her roof.
She made the supportive post mentioned above after Sheen's comments. And her post seemingly made Sheen rethink his position.
On June 18, 2022, he sent a new statement to the same publication clarifying his position on the matter. He admitted Richards made some good points in her post, which he ignored while rushing his reaction.
Then, he promised Sami would have a "united parental front" to support her from that date onwards.
For a while, it looked like Sheen had really changed his mind. But that turned out to be untrue when Sami opened up about her parents' response to her joining OnlyFans in an exclusive interview with TMZ.
As per her accounts, her mother was incredibly supportive, but her father hadn't "seen the light yet." She then shared she didn't mind if her dad was not supportive or interested in their decision.